Karen Getman is the ex-propriator-owner of Mission Traders Free Trade shop, a mentor, a peace activist, and a beloved grandmother.
Posts By This Author
Stars Align on South Africa Human Rights Day
, 03-21-2013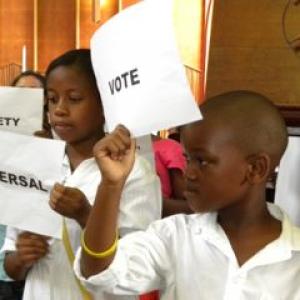 Having achieved our freedom we can fall into the trap of washing our hands of difficulties that others face. We would be less human if we do so…we know too well that our freedom is incomplete without the freedom of the Palestinians.
- President Nelson Mandela- December 1997
There is visceral identification by South Africans with the suffering of the Palestinians.
Newspapers and speakers at South Africa Human Rights Day/U.N. International Day for the Elimination of Racial Discrimination focused on the liberation of the oppressed and the importance of a mobilized civil society to stand with the marginalized. The events commemorate the nonviolent protest against the racial passbooks, March 21, 1960. The day ended tragically with the Sharpeville massacre, which left 69 people dead and 180 injured. Nelson Mandela burned his discriminatory passbook a week later and the long march for freedom and dignity began in earnest. Even when it is still a journey in progress of real equality and democracy for all, there is an intentionality expressed best by Mandela.