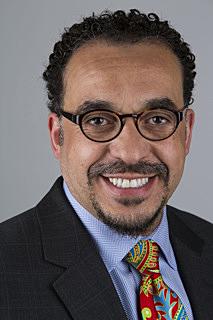 John Arthur Nunes is the recently appointed Emil and Elfriede Jochum Chair at Valparaiso University, a professorship supporting the study of Christian values in public and professional life. From 2007 to August 2013 he was the President and CEO of Lutheran World Relief where he led staff in 17 countries working with communities working their way out of poverty. Prior to LWR, John taught at Concordia University Chicago and served in inner city settings in Detroit, Michigan and Dallas, Texas.
Nunes received a Bachelor of Arts from Concordia College, Ann Arbor, Mich.; a Master of Divinity from Concordia Seminary in St. Catharines, Ontario, Canada; and both a Master of Theology and a Doctor of Philosophy with an emphasis in postcolonial identity from the Lutheran School of Theology at Chicago. He has also received honorary doctorates from Concordia University, Ann Arbor, and Carthage College in Kenosha, Wis. At Valparaiso, Nunes is affiliated with Christ College—the honors college of the university; Campus Ministries; and the Departments of English, Theology, and International Studies.
Nunes is the author of Voices from the City: Issues and Images of Urban Preaching and, with his wife Monique Nunes, Little Things Make Big Differences: A Story about Malaria. With Mary Joy Philip and Charlie Collier, he edited and contributed to the recently released, Churrasco: A Theological Feast in Honor of Vítor Westhelle.
He considers himself a recovering Scrabble-holic and is a lover of poetry and music — from Bach to Bob Marley. His wife, Monique, is the Assistant Director of Multicultural Student Programs at Valparaiso University and they together are the parents of six grown children and an expanding entourage of grandchildren.
Posts By This Author
On Scripture: It's Not About You
09-03-2013
A life transition — like any effort to follow Jesus — is stressful: packing and unpacking, bidding farewells, refocusing from one set of commitments to a new future. It might be summarized in the early North African church leader's interpretation of this Sunday's Gospel reading from Luke 14:27: "Take up your stress and your tortures." (Tertullian)
This September, my family's transition from the hazy days of summer's more casual pace back into the back-to-school rat race is tougher than usual. It not only involves our own children finding their way back onto their college campuses, but I am going too, to teach at Valparaiso University where I've been appointed to an endowed professorship which supports the study of Christian values in public and professional life.
Of necessity, most roads back-to-school are paved with lines of procedures, rules, and formalized rituals. The foundation of learning, however, is far less formalized or predictable — it's more relational, like a disciple and master, protégé and mentor, choral director and chorister. Whether in musical arts, as in in Vy Higgensen's Gospel for Teens program, or in biblical hermeneutics, the best learning happens in healthy relationships.