Jim Gallagher writes for the St. Louis Post-Dispatch.
Posts By This Author
Denzel Washington Preaches Gratitude to Church Members at Pentecostal Convention
11-10-2015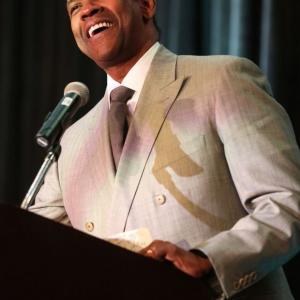 Hollywood star Denzel Washington, the son of a pastor, preached a sermon of gratefulness Nov. 7 to hundreds of members of the Church of God in Christ at their annual Holy Congregation in downtown St. Louis.
"I pray that you put your slippers way under your bed at night, so that when you wake in the morning you have to start on your knees to find them. And while you're down there, say thank you," he told the crowd at a $200-a-plate banquet at the Marriott St. Louis Grand Hotel to raise money for the denomination's charity work.
"It is impossible to be grateful and hateful at the same time," he said.
"We have to have an attitude of gratitude."