Jason Wood lives in Vancouver, British Columbia, and runs Red Clover Farms. He is co-founder of Earthkeepers: Christians for Climate Justice.
Posts By This Author
Ecological Romance
01-24-2019
A review of 'A Climate of Desire: Reconsidering Sex, Christianity, and How We Respond to Climate Change,' by Eduardo Sasso.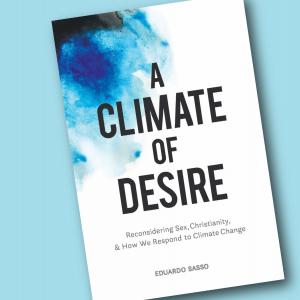 IF YOU'RE LIKE me, your first response to the title of Eduardo Sasso's book was "What?!" But, as unusual as the pairing of climate change and sex is, Sasso proves that their association is fitting. A Climate of Desire argues that the challenge of today's climate crisis is ultimately not about technology, science, or political will. Rather, like sex, it's "about desire: about what we long for and about the consequences of our longings."
Our longings have always been ripe for co-optation. Sasso's book shows how, throughout history, from the tower of Babel to the tech frontier of modern California, people have been tempted to forsake their God-given humanity for an artificial substitute. Our problem today, though, is that our refusal to learn from the past comes with an exorbitant price tag. Fossil fuels have enabled the unrestrained indulgence of our misplaced desires, transforming our cities into engines of unprecedented ecological devastation.
In A Climate of Desire, Sasso reminds us that the Spirit-inspired imagination of ancient truth-tellers such as Jeremiah, Ezekiel, and Jesus himself has a great deal to offer us in our current predicament. Calling their contemporaries to repentance, these holy dreamers denounced the harlotry of cities and nations that were running after false gods of wealth and power. They proclaimed visions of the holy that bordered on the psychedelic and grasped that at the heart of injustice and violence is misplaced desire.
Sasso finds tremendous strength in these ancient voices. But he also gains inspiration from recent campaigns for civil rights and contemporary initiatives for ecological renewal, such as the Transition Network and the fossil-free divestment movement.