Jason Szep is a reporter at Reuters.
Posts By This Author
Georgia Probe Into Trump Examines Chaplain's Role in Election Meddling
, , 09-09-2022
Georgia election worker Ruby Freeman didn't recognize the man who banged on her door. Terrified, she called 911. She had reason to fear.
By the morning of Dec. 15, 2020, when she saw the stranger's red sedan parked in her driveway, she had received hundreds of threats from supporters of former U.S. President Donald Trump. Two weeks earlier, Trump's campaign had falsely accused Freeman and her daughter, Wandrea "Shaye" Moss, of pulling fake ballots from suitcases at Atlanta's State Farm Arena to rig the 2020 election for Democrat Joe Biden.
State Dept. Revolt: Tillerson Accused of Violating U.S. Law on Child Soldiers
, 11-21-2017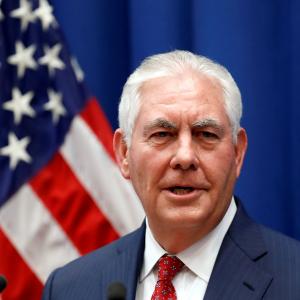 A confidential State Department "dissent" memo not previously reported said Tillerson breached the Child Soldiers Prevention Act when he decided in June to exclude Iraq, Myanmar, and Afghanistan from a U.S. list of offenders in the use of child soldiers. This was despite the department publicly acknowledging that children were being conscripted in those countries.