Iris M. Crawford is a Boston-based climate journalist, organizer, poet, and current master's student at MIT studying science writing.
Posts By This Author
Harnessing the Sun to Become Sovereign Again
05-09-2022
An Indigenous solar energy project combats fossil fuels and paves the way for a financially vibrant economy.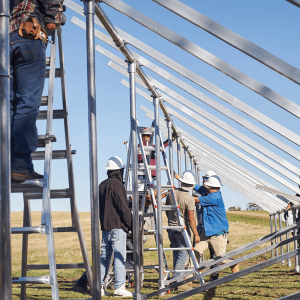 IN 1876, LAKOTA SIOUX rode on horseback from South Dakota to Montana Territory to help the Northern Cheyenne at the Battle of the Little Bighorn in one of the most important actions of the Great Sioux War.
The battle was inevitable. The rights promised through the Second Treaty of Fort Laramie, which gave the Sioux and Arapaho possession of the Dakota Territory, were being ignored. White miners had come to settle on part of the land that was sacred to the Lakota Sioux. The U.S. government ordered the Indigenous communities to return to their designated reservations. Instead of complying, they banded together as an act of resistance. Led by Lakota Sioux Chief Sitting Bull, the Indigenous resistance grew several thousand in number and ultimately defeated Lt. Colonel George Custer and the 7th Calvary—one of the worst U.S. army defeats during the Plains Wars.
Nearly 150 years later, members of the Sioux and Northern Cheyenne have joined forces once again to defend themselves against a new threat to their communal life: fossil fuels.