Hillary Frances is a freelance writer in Colorado.
Posts By This Author
A Church That Doesn't Need Your Money
10-25-2018
A Los Angeles church moved its service to a parking lot—paving the way for a new economic model of ministry.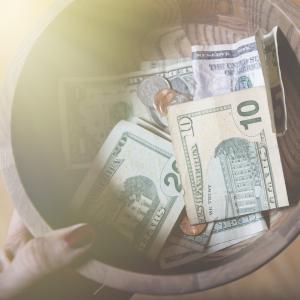 FOR HER FIRST FEW WEEKS as pastor of Los Angeles First United Methodist Church, Mandy McDow forgot to collect the Sunday morning offering. It wasn't because she was holding worship under a tent in a parking lot across from LA's 20,000-seat arena. It wasn't because a group of NBA All-Stars drove by and distracted her. The offering just didn't cross her mind.
"After my first service, people said, 'Where do we put our money?' I was like, 'Oh, I'm so sorry.' We didn't even bring out an offering box or anything. We had to go find it."
Los Angeles First United Methodist Church—known simply as "First Church"—owns the parking lot at the corner of Flower Street and Olympic Boulevard in LA's South Park neighborhood. On Sundays, the parking lot collects the members of one of LA's oldest Protestant churches, a crowd that includes people experiencing homelessness, Filipino immigrants, and LGBTQ folks. On Monday, the 100-spot parking lot goes to work holding cars for people rushing to meetings at the convention center by day and concerts and sporting events by night. "We have this amazing gift of a perpetually regenerating source of revenue that we never have to ask anyone—none of our congregants—for another dime as long as we live," says McDow.
First Church operates on what McDow calls an "inverted business model"; instead of asking the congregation to support the church, McDow runs a business—the parking lot—to support the congregation. "Churches sit empty 80 to 90 percent of the time, and they drain your resources, and then you're asking for money from people who desperately need their money for other things," says McDow. "Every church I have ever served had property issues. All the money goes back into the facility, and you can't do ministry because you're too busy maintaining the temple."