Gilgamesh Nabeel writes for USA Today.
Posts By This Author
In Historic Mosul, Rebuilding After ISIS Poses Archaeological Challenge
, 11-03-2017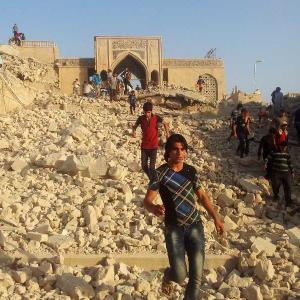 "What happened was a tragedy, yet it's also a chance to discover the last virgin monuments from historical Nineveh," said Zaid Issam, an Iraqi architect. "We can't turn a blind eye to the fact that it was originally built on a great archaeological mound.
Islamic Extremists Impose Reign of Terror on Iraq
, 08-04-2014
Police cars have been repainted to say "Islamic police." Women are forbidden from wearing bright colors and prints. The homes of Shiites and others have signs stating they are property of the Islamic State. And everyone walks in fear amid a new reign of terror.
That's what life is like in Mosul, Tikrit, and other cities in northern and western Iraq under the control of Islamic extremists after their lightning-fast military campaign that overwhelmed the Iraqi army in June.
The new normal for these residents means daily decrees about attire and raids to root out religious minorities in a campaign to impose strict Islamic rule in cities that tolerated multiple religions for centuries.
Video courtesy of USA Today.