Fatemeh Jamalpour is a reporter for Medill News Service. She previously covered city council, women's rights issues, and human rights for a reformist newspaper Sharq in Iran. She has a master's degree in journalism from Allameh Tabatabai University in Tehran, Iran.
Posts By This Author
Protestors Boo NRA, Call for 'End to War on Minorities and Women'
07-17-2017
"The NRA feed gun lobbies, gun manufacturers, they feed the funeral industry more than any other industry," said Tamika Mallory, co-president of the Women March, which organized the protest along with other activist groups, including those representing victims of gun violence.
Low-Income Tenants Fight for Affordable Housing, Protest Proposed Trump Cuts
07-13-2017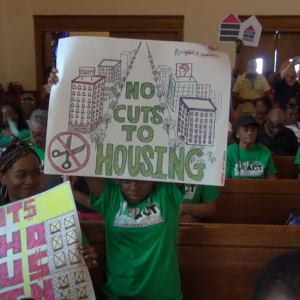 More than 700 people from 16 states rallied Wednesday at a Capitol Hill church to oppose the Trump administration's proposed $6.2 billion cut to federal housing programs. Protesters held signs while shouting, "Housing is our right," "Stop selling our neighborhoods to Wall Street," and "No cuts to housing."