I am most comfortable in the company of others, trying to find foundation in a single word or phrase upon which I can build a mighty story.
As Associate Web Editor at Sojourners, I'm always asking how we can bring different layers and perspectives to stories. I navigate between reporter, opinion writer, and editor, all through the lens of understanding how policy, representation in media, and language affect people groups and individuals. Through this, I construct stories of privilege, identity, and culture and study how these factors affect issues of justice, equality, equity, and faith in comunities across the globe. I am curious about how people in poverty, people of color, and marginalized people are represented in our current media. And I ask, how do these representations affect our culture today? How can we change negative representation and give the people power through story?
I was born in South India and raised in South Texas and experience culture shock almost daily. When I'm not doing journalistic things, you can find me curled up in a blanket watching 90s cartoons.
Posts By This Author
Experiencing Inauguration Day as an Immigrant
01-23-2017
America is beautiful because we have the power to define what it means to be American.
Too often, we immigrants define what is "American" by what white culture tells us it should be. We internalize colonialism and let it run thickly in our veins: We give our offspring English names because we're embarrassed of our language, or afraid that our children won't be accepted with anything too "exotic." We eagerly give up a culture that so proudly raised us. I've watched as we villainize black people and turn our backs on undocumented immigrants.
18 Arrested at Anti-Death Penalty Protest
01-17-2017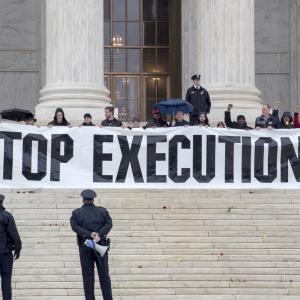 "We are standing with families who have had their loved ones murdered and families who have had their loved ones executed or put on death row," said Shane Claiborne, co-director of the Red Letter Christians, who was arrested during the protest.
"Violence is a disease not the cure," he continued, "as families themselves say, remember our loved ones but not with more killing. That's our message today."