Delonte Gholston is lead pastor at Peace Fellowship Church, a multicultural, multi-socioeconomic community in the Deanwood neighborhood of Washington, D.C.
Posts By This Author
Still, We Vote
11-05-2018
In the black community, voting has always been complicated.
We voted and yet you lynched us.

We voted and yet you incarcerated us.
We voted and you poisoned our water.
Can We Talk?
05-01-2018
When LAPD shot an unarmed homeless man, I wanted to respond. But how?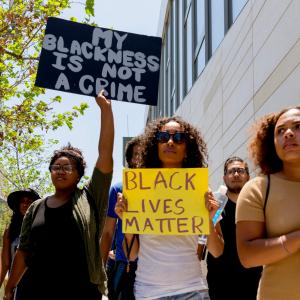 IN MARCH 2015, as video after video of police violence flooded the nation with outrage, grief, and hashtags, an unarmed homeless man named Charly "Africa" Keunang was shot and killed in downtown Los Angeles by the LAPD. In a city still bearing scars from the '92 uprising that followed the beating of Rodney King on live television, Ferguson and all that followed was but the latest reminder of what happens when black grief is met by a militarized police force.
As a young pastor in downtown LA, I wanted to respond but didn't know how. After reaching out to local community leaders for wisdom, I called Officer Deon Joseph, a 20-year veteran of the LAPD, adored by some and abhorred by others on Skid Row. Together, we agreed to form a team of pastors, officers, and community members to restore trust between the community and the police. We held a community vigil to honor Brother Africa and hundreds came; the officers in attendance bitterly wept.