Chuck Armstrong is a church planter and writer in New York City. From a town of about 150 people in northeast Kansas, he now lives in Hell's Kitchen with his family.
Posts By This Author
Parker Millsap's Folk Music Called Him Inward. It's Calling Us Too
05-25-2021
The singer-songwriter finds a great deal of hope in the hymns he grew up with.
ON HIS DEBUT record, Palisade, released in 2012, Americana wunderkind Parker Millsap ends the title track singing with blues-soaked vocals, "Writing on a blank white page keeps my demons one more day away." For Millsap, an Oklahoma native who now calls Nashville home, those lyrics weren't just a young artist trying to sound profound; they spoke truth to his experience with music and faith.
"When I'm playing [music] with other people and for other people, there is something about it that will always feel spiritual to me," says Millsap. "After all, that spiritual feeling, that's the context I first received music in."
Millsap grew up in a Pentecostal church in a small Oklahoma town, and says if people were going to speak in tongues or run around the sanctuary, it was almost always during the music. "I always resonated with using music to reach ecstatic states," he says. "As soon as I could play enough chords to keep up, they put me down in front at church."
Drive-By Truckers Await the Resurrection of Moral Christianity
06-25-2020
"If I were a devout Christian, I would be devoutly offended."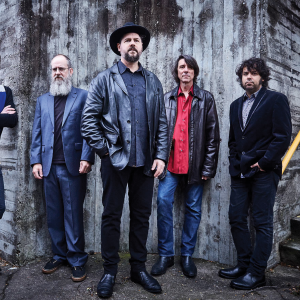 IN 1996, PATTERSON Hood and Mike Cooley co-founded Drive-By Truckers, an alternative-country rock band based in Athens, Ga., that has always celebrated speaking truth to power while making unforgettable music. Over the years, Hood and Cooley have remained the chief songwriters in the band, and one thing has been constant since day one: They speak their minds. That has never been truer than on their latest record, The Unraveling.
"It's a heavy record, it's really heavy," says Hood. "It was painful to write."
Much of that heaviness revolves around Hood and Cooley plunging themselves into the hypocrisy of the evangelical movement that has come to a vivid crescendo since the 2016 U.S. presidential election.
"I'm not going to put up any pretense that I'm religious, but there's a lot of Christianity in my background," Hood admits. "I have very, very close family members who, until fairly recently, considered themselves part of the Christian Right." He watched as those family members experienced a political turnaround, partly due to how they saw politicians co-opting their faith in ways that went against their interpretation of the teachings of Jesus.
"They're particularly offended by the whole 'thoughts and prayers' thing being bandied about as an excuse to do nothing, as an excuse for inaction," he says. Because of that, he put pen to paper and wrote the aptly titled "Thoughts and Prayers," a hauntingly beautiful song that forces listeners to confront the senseless gun violence for which America has become known.