Cherice Bock teaches courses in social justice and Christian earthkeeping at Portland Seminary and is a Ph.D. student in environmental studies at Antioch University New England.
Posts By This Author
Living Water
04-25-2018
Watershed Discipleship: Reinhabiting Bioregional Faith and Practice, edited by Ched Myers, foreword by Denise M. Nadeau. Cascade Books.
IF YOU'RE LIKE ME, you care about creation, but have a looming gap between your concern and knowing what to do about it. It can be paralyzing to live in an age of global climate change, environmental degradation, pollution, habitat loss, ocean acidification, lead in the drinking water of cities, and the melting of polar ice caps. Many works of ecotheology explain why caring for creation is a Christian imperative but struggle to get to the how.
Enter Watershed Discipleship: Reinhabiting Bioregional Faith and Practice. We can't easily fathom a plan to care for the entire planet, but we can envision our watershed—the area in which water flows down to a common waterway such as a creek or river. (To find your watershed, enter your zip code on the EPA's "Surf Your Watershed" site, epa.gov/surf.) Imagine caring for your watershed, along with the network of people who also live there. Ched Myers quotes Wendell Berry's rewording of the Golden Rule to explain how this is an act of care for the entire planet: "Do unto those downstream as you would have those upstream do unto you."
In the introduction, activist theologian Myers defines the phrase "watershed discipleship" as a "triple entendre." It reflects " a watershed historical moment of crisis, which demands that environmental and social justice and sustainability be integral to everything we do as Christians." It recognizes a " a watershed context"—that we follow Jesus in a "bioregional locus." And "it implies that we need to be disciples of our watersheds"—in other words, "learning from, following, and coming to trust ... 'The Book of Creation.'"
A Walk on the Wild Side
05-04-2016
Rewilding the Way: Break Free to Follow an Untamed God, by Todd Wynward. Herald Press.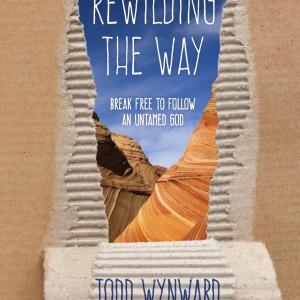 REMEMBER THE thrill that went through you when C.S. Lewis told you Aslan is not a tame lion? I sometimes forget about this untamed image of God when ensconced in my "safe" Christian community.
In his recent book Rewilding the Way: Break Free to Follow an Untamed God, Mennonite minister and permaculture practitioner Todd Wynward reminds us of the importance of the wilderness in the Bible and in Christian history. Wynward calls his book an "unapologetic rallying cry to rewild a Christianity that has become terribly tame."
He argues for a third way of enacting discipleship: not the radical renunciation of ascetics, open only to the childless and unattached, nor a life of unexamined affluence, but a life of spiritual resilience where we develop strong, place-based communities of praxis who care for one another and creation through the power of the Holy Spirit. He invites us to remember the transformation that occurs through the wilderness testing of Moses and the Israelites, many of the prophets, John the Baptist, Jesus, the apostle Paul, and the desert fathers and mothers. In the wilderness we learn about "enough," trusting God, and how much we need one another. We learn about our paradoxical smallness and value to our loving God.
A text like this could reinforce Christian contemplative navel-gazing and a personal experience of God as only available in the sublime elements of nature, unreachable in a sullied built environment. Wynward avoids this pitfall by focusing on community and a covenanted right relationship with God, others, and creation. He discusses environmental justice, activism, and urban projects that rewild spaces closer to home.