Camille Erickson is an investigative journalist covering politics and the economy through a social justice lens. She is a graduate student at Northwestern University's Medill School of Journalism.
Posts By This Author
'Why Are You Made to Suffer for Needing Asylum?'
04-15-2019
Public testifies before U.S. Commission on Civil Rights about abuse in immigration detention centers
Democrats Announce Bill to End Trump's Ban on Travel from Muslim Countries
04-10-2019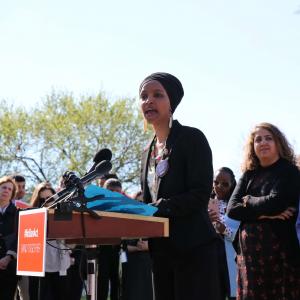 The last time Mana Kharrazi spoke with her uncle in Iran on the phone, she told him he could not visit the U.S. because of President Donald Trump's so-called "Muslim ban," an executive order barring travel from seven mostly Muslim-majority countries. She did not know her uncle was dying.