Bryan Parys is an essayist, music reviewer, and instructor of writing at the University of New Hampshire. He earned his MFA in creative nonfiction at UNH in May 2010, where he started work on a memoir titled Wake, Sleeper. The book explores how the loss his father shaped and butted heads with his Christian upbringing.
Posts By This Author
The Free Ticket: Traveling With An Atheist to the 2012 Wild Goose Festival
07-02-2012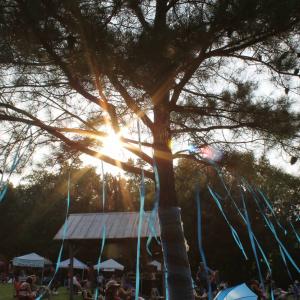 Chris is an atheist and a humanist chaplain at Harvard University. He is the only explicitly nonreligious speaker invited to the 2012 Wild Goose Festival in Shakori Hills, N.C.—a festival that is generally (and with exception) aimed at the liberal, often-invisible fringe members of the Christian community. Being that I theoretically fall into this group, Chris offered me his plus-one free ticket.
While it generally takes an act of God (or, "a series of convergences" Chris might say) for me to make a decision, I told him I'd go. After all, I'd been experiencing my own dark night of the soul where almost every conversation I've had about religion/ Christianity over the last year has been doubt-ridden and cynical. In my best mood, I hoped my attendance would put me in touch with some other cynics, believing it might relieve my cosmic guilt. What I secretly feared, however, was that I was going to Wild Goose to break up with the Christian faith I'd grown up under.