Britney Winn Lee is a community arts directing working at the intersection of faith, social justice, and community building in Shreveport, La., where she lives with her husband and son. She is currently signed with Wipf and Stock Publishers for a ministry memoir whose working title is The Way is Where: A Complicated Search for Radical Faithfulness (due in 2018). Her public writings can be found on Red Letter Christians blog, Art House America blog, Off the Page, and her personal site www.britneywinnlee.com.
Posts By This Author
Women of Color Only: A Lenten Practice
, 03-05-2018
My bookshelf represents a poverty of influence. So for Lent, we — two white middle-class millennial women — decided to fast from white voices and white-dominated media. For 40 days, we're committing to only read books, watch films, and listen to podcasts written or directed by women of color.
Not Yet on Shore: An American Church in Tension
10-18-2017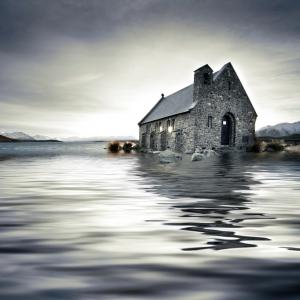 Phyllis Tickle predicted that it would take us — as it has taken others elsewhere — one hundred years to shake it all out once more, to find a new normal as humans, as Christians, as people who are relearning how to love and recognize the image of God in one another. And if this is true, then we are still merely at the beginning of this epoch, marked by the rise of global internet access. We are in the "chaos" phase that every artist knows well, where the supplies are strewn about and the grief that is to be our painting's subject has yet to be fully deconstructed. To me, there is hope in this reminder — hope that maybe we have been created to live in the muddled period of becoming, committing ourselves to trial and error and to sifting.