Posts By This Author
From the Archives: Sept/Oct, 1996
08-07-2015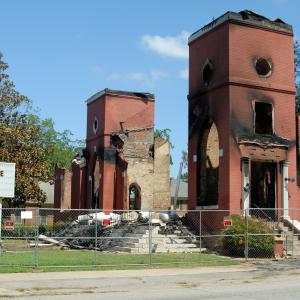 AS I RECENTLY recalled that summer of 1964, I was reminded that slavery was our original sin. Race remains our unresolved dilemma, and today the bombers are back. From an urban church in Knoxville, Tenn., to countless rural churches in South Carolina, Virginia, ... and Alabama, the flames of arson and the hatreds of racism burn again.
On the narrow subject of burning churches, there has been rare bipartisan outrage. Conservative Rep. Sen. Lauch Faircloth of North Carolina said on the Senate floor, "If we in Congress cannot agree that church burning is a despicable crime, what can we agree on? It's not a matter of liberals, conservatives, blacks, whites; it is about justice, faith, right, wrong." He and Sen. Ted Kennedy introduced a bill to toughen the laws against church arson.
Well-meaning whites have also stepped forward to help rebuild churches. The National Council of Churches and the Anti-Defamation League have established national rebuilding funds.
Our Unresolved Dilemma
09-01-1996
Church burnings and America's quest for racial healing
In American political life, there is an issue about which we hear endless talk dealing with surfaces, and very little movement deep down in the body politic. Unless faced, it will prevent us from realizing our potential as a pluralistic democracy with a growing economy, and, instead, it will foster a poisonous resentment, even a hatred, that kills much of life's joy. The subject is race. Frequently, Americans have been unable to see deeper than skin color or eye shape to the heart and individuality of all our citizens. There were times when we allowed destructive impulses to triumph over our deeper awareness that we are all God's children. Occasionally, the violence of the few elicited the fears and seething anger of the many and prevented the possibility of racial harmony. It's an old story, and a sad one, too.
In 1963, four African-American girls in white dresses were talking prior to Sunday services in the ladies lounge of the 16th Street Baptist Church in Birmingham, Alabama. Suddenly, the church was ripped apart by a bomb that killed the young girls instantly. There had been other bombings in Birmingham aimed at halting blacks' progress toward racial equality but they had not penetrated the national consciousness. After that Sunday's explosion, people of all races and all political persuasions throughout the country were sickened in spirit.
Coming 18 days after Martin Luther King Jr. had shared his dream for America from the steps of the Lincoln Memorial, the bombing was a stark reminder of how violently some Americans resisted racial healing. Yet the sense of multiracial outrage and solidarity that came out of this tragedy--combined with the seminal leadership of President Lyndon Johnson--led to the Civil Rights Act of 1964, and to the hope that the search for racial equality could lead to the emergence of a spiritually transformed America.