Aaron Stauffer is the Executive Director of Religions for Peace USA, working with over 50 member communities to inspire and advance common actions for peace. With nearly a decade of experience in the interfaith movement, he brings a passion and insight into his work.
He most recently worked as an institutional organizer with the Industrial Areas Foundation in San Antonio, working to build public power within disenfranchised communities. He is also currently a Doctoral student in Social Ethics at Union Theological Seminary in New York.
Posts By This Author
Theologies of Fear
09-04-2015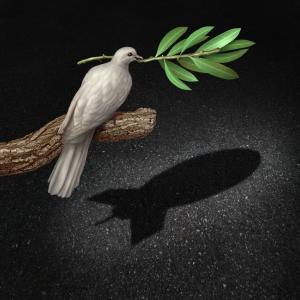 Two years ago I sat in a room crowded with 300 angry people and 700 more outside shouting, as I nervously whispered, "I've never been in a room where I've felt so much white Christian rage." My colleague, a pastor from Pulaski, Tenn., nodded as I straightened up in my chair.
The crowd had come from surrounding states to this small community forum in Manchester, Tenn. They came to protest the forum's concern for hate crimes against Muslims. National Islamophobic groups had bussed protestors in from hundreds of miles away, carrying messages and signs based on an ideology — some might say, theology — of bigotry. And they were truly angry, flashing their handguns and shouting down panelists. This was in the summer of 2013, but the memory still reminds me, why I moved to Tennessee to work on an interfaith public education effort to end anti-Muslim sentiment.
To be clear, these weren't people who wanted to discuss the complexities of interfaith engagement while holding true to our particular faith claims. There are many people in this country who want to talk, for instance, about what interfaith relations mean for evangelism, or why a small number of Muslims today are turning to terrorism, without generalizing the Muslim community or wanting to see harm done to them. These were not the people at the forum, however. One thing alone had brought them to Manchester: fear.