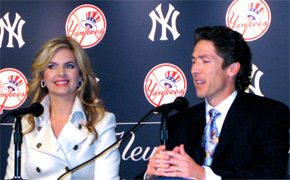 When I found out A Night of Hope with Joel & Victoria would be playing in New York City, at the brand new $1.5 billion Yankee Stadium, I knew I had to attend this concert. (Sorry, but if you charge admission, I no longer call it a worship service).
Prior to the show, Joel and Victoria Osteen held a 15-minute press conference.
Hello this is Becky Garrison with Sojourners. You're here at ($1.5 billion ) Yankee Stadium not that far from Wall Street. What do you want to say to New Yorkers who are going through this current financial crisis?

JOEL: I would say to them probably what I'm going to say to most of the people today. Keep your head up. Keep believing that good things are going to come, that this is a season that we will pass through. Really don't get negative. Don't get bitter. Don't get discouraged cause that just draws in more of that negativity. So, I'm going to encourage people that we all go through difficulties. But I think God can bring us out and he can somehow bring us out better. So, just try to inspire them to keep believing.
No clue where Jesus is, but I suspect he'd rather not play ball at this stadium.
Now, it's show-time. Given there were still well over 10,000 seats available, they didn't really hit a homerun out of this ballpark. Even though the show didn't sell out, we were all told we're still champions of hope, victors not victims. Be a believer not a doubter. Guess mentioning the cost of the cross might be too much of a devotional downer.
I confess I'm not a major fan of crusades in general. They just don't speak to me spiritually. Having said that, when I attended the Billy Graham Crusade in Flushing Meadows, I got the sense I was in the presence of a man of God. But the Osteen inspired happy-happy-joy-joy multimedia extravaganza made me wonder if I was at a worship service or a motivational seminar.
Once the praise music faded away, Joel and Victoria took the stage. After Joel rejoiced how tonight he gets to live his dream of playing professional baseball and prayed for this spanking new stadium, Joel and Victoria regaled the crowd with a replay of their favorite hits. Most of what I'm hearing seems to be eerily similar to Joel's Madison Square Garden concert that I covered back in 2006. Has their faith not evolved in these ensuing three years? Surely folks as well-traveled as the Osteens might have some new stories they can tell. Victoria could share her latest adventures with airline attendants for starters.
By sheer coincidence, Dan Merchant, the author and director of Lord, Save Us From Your Followers
was sitting right next to me. When I complained I had seen this motivational multimedia show before, he reminded me that I might say it (as a rock show expert): "People come to rock shows expecting to hear 'the hits' citing how the Rolling Stones play 'Satisfaction' at every concert." He added, "Like the Stones, Osteen's Night of Hope hits the same buttons. Charisma, emotion, nostalgia, dramatic staging (gorgeous night, amazing new ball park), a sense of community-all Osteen was missing was the flashpots and a B-stage in center field."
But when Joel and Victoria welcomed Matt and Laurie Crouch on to the stage, this went from being another glam and glitter religious rock show to a prosperity gospel pow-wow. Behind these mega-million watt smiles and the hair that praises Jesus lurks a ministry that makes the '80s era PTL Club seem like Little House on the Prairie. I don't recall nearly this much gospel-lite glitter when I caught Billy Graham in action.
But here's where the Osteens really deviated from the Billy Graham Crusade plan. On top of the $15 admission fee, Joel Osteen Ministries passed the bucket "to support future events like this one." Double dipping like this doesn't sit well with me when the Trinity Broadcasting Network (TBN) will be carrying this live throughout the world via the network's 33 international satellites. Once one factors in how much money they stand to recoup from this broadcast, one has to wonder why they couldn't let people in for free and then take a free-will offering. If the Dalai Lama and Billy Graham can host free events that attract even more followers, why couldn't they do likewise?
Then there's the not so itty-bitty problem with their charity of choice. Doing food drops in New York City via Feed the Children sounds like a noble gesture (though naming a facility "The Victoria Osteen Abandoned Baby Center" is just downright creepy.) But this charity has consistently received an F grade from the American Institute of Philanthropy for low program spending and high fundraising costs.
As I'm watching everyone raise their hands and reach into their wallets, my heart sinks. I know many people flock to Joel because they love his hope-filled message. And yes, we do need people who can present positive images of Christianity given how Christians are often portrayed as Fred Phelps and Ann Coulter's love child. But what is Christianity without the cross? Also, I just hate watching people fill up on faith fast food when I know there's so many other healthier Charismatic communities where they can raise their hands and really do some good for God.

Becky Garrison reported on the media coverage of this event at Religion Dispatches.