The Sudanese revolution is half-complete.
On April 12, merely 24-hours after they had gotten rid of Omar al-Bashir, their dictator of 30 years, the Sudanese people were still out on the streets. They are out today too.
The reason? The protesters say that while the dictator is gone, the system that propped him up must go too.
And one of the most prominent voices demanding change is Alaa Salah, the woman who stood atop a car and sang for revolution.
On analyzing the state of women's rights in Sudan and women agitations in the past, it becomes apparent that the iconic status that Salah's photographs and videos gained strength from decades of deep-rooted troubles and ensuing political activism among Sudanese women.
Eiman Salih, a Sudanese human rights activist says that girls in Sudan were allowed an education in the early 20th century and "women have been doctors, judges, and even been in the parliament." But since al-Bashir came to power, women have been "raped in wars, flogged for wearing pants, and arrested under badly drafted laws."
Besides protesting against economic hardship and general brutalities, women have a personal battle with the regime, she added.
Jehanne Henry, associate director in Human Rights Watch's Africa, told Sojourners that women have been protesting for many years, pointing specifically to the way Sharia law has been implemented.
"Adultery is a criminal offense in Sudan and it is punishable with lashings and sometimes even death," Henry said. "Guardianship laws are also in effect."
The list of injustices goes on. In 2003, civilians in Sudan's Darfur region were subjected to mass killings and rapes at the hands of the government and paramilitary groups. In March 2009, al-Bashir became the first sitting president to be indicted by the International Criminal Court (ICC) for the genocide.
"The fact that women are protesting today reinforces the argument that reforms in this area should be part of the wider change," Henry said.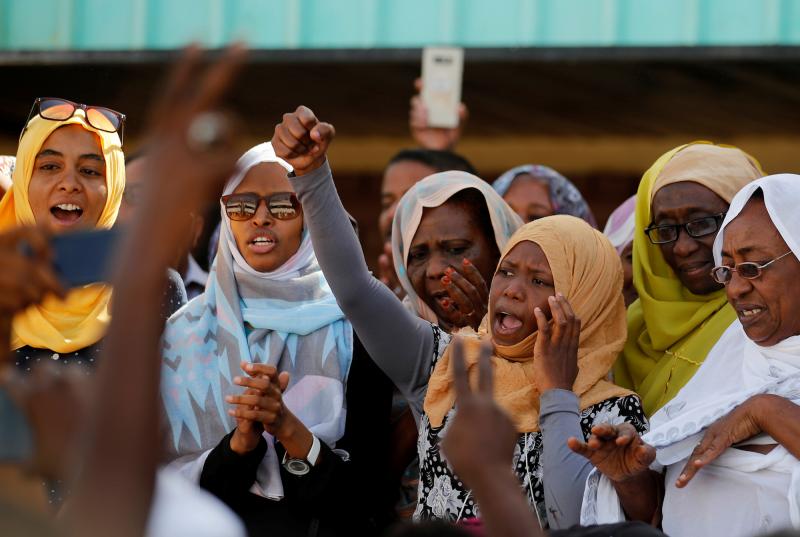 Reem Abbas, a Sudanese journalist observed that "over 50 percent of the protesters were women and this happened because women bore the brunt of the damage this administration caused."
A protest of perseverence
People have been out on the streets since December 2018 — and it all began with the price of bread and fuel.
When austerity measures were imposed and subsides were cut, essentials like bread and fuel became expensive. Their supply was also in shortage and people had to stand in long queues outside petrol bunks, ATMs, and grocery stores.
Soon, the movement gained momentum across the country. The core demand was the resignation of a president who oversaw a particularly troubled period.
Al-Bashir came to power after leading a military coup in 1989 that overthrew a democratically elected government. Since then, he has been re-elected to power owing to processes that have been widely considered to be fraudulent.
"People have been protesting for many years," Henry said, pointing to the conflicts in Darfur and the arbitrary detention of opposition leaders, journalists, and other critics, and displacement of people through governmental construction projects.
But the protests that began in December last year were of a larger scale: People from all walks of life, including doctors, nurses, engineers, and lawyers joined the movement from various parts of the country.
Nuha Zein, spokesperson for the Sudanese Professional Association (SPA), which helped organize the protest movement across Sudan, says that the demonstrations spread to more than 85 Sudanese cities and village — and that people outside of Sudan and even "sovereign forces, such as the army and police forces have sided with us."
"The demands were and still are for bread to be affordable," Salih said. "But we also need justice, peace, and prosperity."
In responding to the protest, the authorities used tear gas, rubber bullets, and finally fire power that left about 70 dead and various others injured since December. Access to social media was curtailed.
But still the protests continued.
"The people want new leaders who are free of old power dynamics," Henry said.
As for access to social media, virtual private networks paved the way. Hashtags like #SudanUprising and #SudanRevolts were widely used to put out messages and mobilize ground voices.
After the ouster of al-Bashir, Ahmed Awad Ibn Auf, the commander of the military, took over and established a transitional military council. But considering that the people blatantly opposed his leadership in their demand for a civilian government, he resigned after one day. A day later, the head of the National Intelligence and Security Service, the intelligence wing of the federal government of Sudan, also resigned.
Activists have accused the NISS of brutally cracking down on the protesters. Amnesty International too has called for an investigation into the role that Salah Gosh, then-head of NISS, played in spearheading "the deadly crackdown against protesters in recent months."
"We are protesting because the movement was not just for toppling al-Bashir … it was for democracy," Abbas said.
Currently, a military council headed by Lt. Gen. Abdel Fattah Abdelrahman Burhan is in-charge. But the people aren't happy.
"This council includes three generals who were assistants to al-Bashir and are involved in campaigns of arrests, torture, and murder of peaceful protestors," Zein said, adding, "we will continue our sit-in in front of the headquarters of the Sudanese Armed Forces in Khartoum and other Sudanese cities until power is handed over to a transitional civilian government and fair trials are conducted against the perpetrators of violence."
Zein also specified that the structure of the transitional government ought to include "qualified persons of both sexes with an active participation of youth" — thought Abbas said that this would be no easy task considering Sudan's deeply patriarchal society.
"At the end of the day, our political scene is male-dominated and yes, women were on the front lines," Abbas said. "But this does not guarantee that women will not be pushed to the sidelines and their demands will not be neglected. A lot of advocacy has taken place but there's a lot of work to do."
Got something to say about what you're reading? We value your feedback!