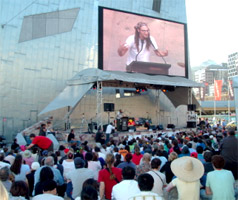 It seems that much of our conversation as a Church is in a perpetual cycle of reaction. We are tempted to exaggerate the neglected truth, and end up making incomplete disciples, either social justice disciples without Jesus or Jesus disciples without social justice. Then there are those special moments where Jesus and Justice kiss. I recently had a moment of that kind of romance, in Australia.
I just got back from a trip to Australia where I was saw folks fall in love with Jesus, the real Jesus, for the first time
Got something to say about what you're reading? We value your feedback!