In early December, Immigration and Customs Enforcement released nearly 500 women and children from Texas family detention centers, flooding San Antonio emergency shelters — and revealing the generosity of a city.
"After this weekend's events San Antonio may not be a sanctuary city on paper, but it's a sanctuary city just by the actions of the community," said Amy Fischer, policy director for the RAICES in San Antonio.
Fischer said San Antonio residents, faith communities, and state and local government officials quickly rallied to provide the families with food, shelter, cell phone access, transportation, and more.
The release came after a Travis County District Court judge ruled that the state cannot license the detention centers in Dilley and Karnes City as childcare facilities in a petition filed against the Texas Department of Family and Protective Services and for-profit private prison companies Corrective Corporation of America and The GEO Group. While ICE maintains that the releases from the detention centers "were scheduled as part of normal operation and not in response to the court ruling," advocates question why intake facilities were not notified in advance.
"The highest number of people we have ever served on a given day was 101. We got over 250 people on Sunday alone," Fischer said. "To say that's normal is simply untrue."
According to RAICES records, the number of people ICE released to them on Dec. 4 alone exceeds the number the organization receives in an average month. And Fischer said she expects the mass releases to continue.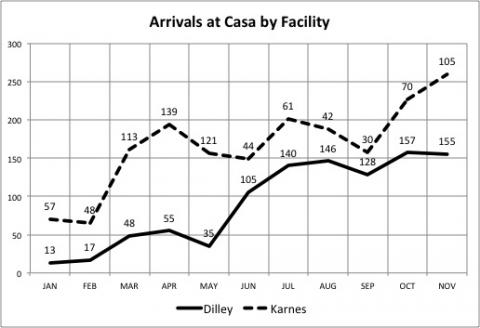 "We've been advocating for families to be released from detention. It's inconvenient, but we'd so much rather have them be with us," Fischer said.
That said, RAICES' regular shelter can only house 27 people at a given time, so local churches have quickly rushed to aid the families.
San Antonio Mennonite Church immediately hosted more than 200 women and children on Dec. 4, offering blow up mattresses strewn throughout Sunday school rooms and the facility's fellowship hall.
On a Facebook post Dec. 9, the church leadership described its motivation, writing, " Jesus very clearly teaches that we love and care for those who suffer as we love and care for God 'Truly I tell you, whatever you did for one of the least of these brothers and sisters of mine, you did for me.' ... Our church building is not our own but a gift we are stewards of in order to welcome and love. Our resources and networks of people and energies are not our own, but vessels of God's love."
Most of the families were released without travel plans — yet another abnormality in the process, according to RAICES; the main tasks for advocates right now are ensuring the families make it to their final destinations throughout the country and connecting them with local advocates to help with everything from legal counsel to transportation. From there, the scope is much bigger.
Texas Gov. Greg Abbott has threatened multiple times to cut funding to cities and state schools that set up sanctuary status — even as a firm definition of the term remains elusive.
Yes. I'm going to sign a law that bans sanctuary cities. Also I've already issued an order cutting funding to sanctuary cities. #txlege https://t.co/uYXa2QFrvE

— Greg Abbott (@GregAbbott_TX) November 28, 2016
Texas will not tolerate sanctuary campuses or cities. I will cut funding for any state campus if it establishes sanctuary status. #tcot https://t.co/2wN4eo1YLG

— Greg Abbott (@GregAbbott_TX) December 1, 2016
RAICES, which was founded during the 1980s swell of the sanctuary movement as Central Americans fled civil upheaval, is one of several groups in Texas hosting conversations about next steps for immigrant advocacy under a Donald Trump administration, even while holding the Obama administration accountable for some of its troubling immigration policies like family detention and mass deportations.
Of the many questions advocates are exploring, Fischer says at the top are: "What does sanctuary mean in 2016? … What does it mean in 2017?"
Got something to say about what you're reading? We value your feedback!