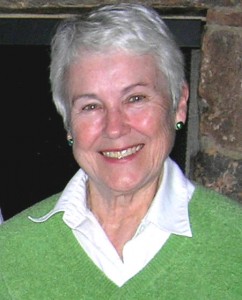 I wonder if the Lord God abhors labels as much as I do.
Somehow we human beings need to group and categorize people according to their behaviors and the beliefs that seem to define them. I keep remembering our perceptions are not God's; God looks at the heart and knows us from inside out.
I do know, however, that the gospels urge us to judge others "by their fruits" -- the results of their living and relating to others.
The Christian world is broad and spacious, and within its circumference, like a large bowl holding a variety of colorful fish, swim a surprisingly diverse spectrum of believers. The secular media mistakenly seem to view "the evangelical movement" as a sort of monolithic structure akin to a well fortified garrison ranged to repel the attacks of "liberals" or "progressives" or "mainline churches." Or a right-wing political force often equated with Republicanism.
A distinction needs to be made between evangelism -- the spread of Good News -- and another "-ism," the quasi-political movement of evangelicalism. The truth is that there is great diversity among "evangelicals," though the core convictions remain consistent, a holding to a whole-hearted defense of Scriptural authority, a vigorous Christology that sees Jesus as the only Savior and avenue to heaven, a limited view of the sacraments -- Communion a couple of times a year. (If at all. And then only using grape juice!)
The kind of legalism I grew up with, largely defined by what Christians couldn't or shouldn't do, still holds in certain communities of faith that might be characterized as fundamentalist. I was raised in that most conservative of settings, yet I've found great refreshment and renewal, particularly as a woman, in becoming a member of a mainline church where gift was of greater importance than gender. It was a move that widened my horizons immeasurably, and enlarged my view of the largeness and generosity of God's love.
In this world liturgy, worship, silence, community and outreach have largely replaced rules and regulations and the exclusion of others who disagree with one's doctrine. The arts are celebrated. Beauty is evident as a means of grace.
Today I asked an intelligent and faith-filled friend what came to mind when I used the word, "evangelicalism." Her face filled with alarm as she replied, "Oh, noise! Loud entertainment, lack of reverence and awe, avoidance of 'mystery,' little sense of the other-ness of a holy God. Rather, an emotional need to be on intimate terms with Jesus and 'feel his presence' like a supportive Big Brother, coupled with the goal of converting sinners rather than loving the people in need of love."
"Wow!" I responded. "That's a pretty devastating judgment."
She looked sad. "Yes. It is."
Nevertheless I still find warm fellowship with many of my evangelical friends. After all, our job is the same -- to be heralds of Good News and draw people into relationship with God through Jesus Christ. And our source of strength and saving grace is the same -- Jesus, the incarnate Son of God.
What draws all of Christendom together is the voice of the Holy Spirit to each of us, as we open our spiritual ears and enlightened hearts to his messages that come through all kinds of orifices. I am also encouraged that broader concerns, issues of human rights, social justice and conservation are of growing concern and action among younger believers.
Evangelicals are "protestant." That is, in the effort to live by faith rooted in Scripture alone they have "protested" and pulled away from the older Roman Catholic and Orthodox authorities, moving towards a greater independence from those historical traditions. They form the middle ground between fundamentalists and Catholics. Think D. L. Moody. Think Billy Graham.
Yet I have often felt troubled that insistence on the fine points of Christian doctrine have been the cause of splits and divisions in the evangelical community. Consider the number of existing Baptist groups. Consider the disputes and divides among the Reformed churches and Anabaptists. Though this may be the result of a desire to keep the Gospel pure and undiluted by questionable beliefs or emphases, often the resulting intransigence and bitterness about doctrine breaches the body of Christ in a way that must wound the heart of God.
I thank the Lord that in spite of us and our wrongheadedness, God hasn't given up on us. God's power is persistent. God loves us all. God is still at work in the church. Consider that, and be hopeful!

Luci Shaw is a poet and essayist who loves green and God. Her most recent book of poems is Harvesting Fog. She lives in Bellingham, WA.