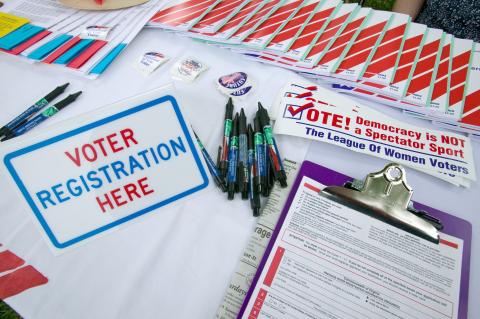 In four days our nation will decide its course for decades to come. On Nov. 6, ordinary people who have not already sent in their absentee ballots or stood in line to vote early, will walk, drive, caravan, and bus their way to polling stations scattered across every state in the nation. These ordinary people will exercise their right as American citizens to vote. They will also exercise their God-given call, as human beings made in the image of God, to exercise dominion (agency) within our grand democracy. Or at least they will try.
The deep waters of injustice are rising high and threatening to spill over on Nov. 6. Voters will have to wade through muck and mire to cast faith-filled ballots this year. So, listen up, study up, and get your gear on in preparation for Nov. 6.
Voter Suppression
Do you live in Ohio? Late on Oct. 31 — only six days from Election Day — the Sixth Circuit Court of Appeals, a court of three conservative judges appointed by Presidents Bush 41 and 43, blocked a federal district court injunction against voter suppression in Ohio. By the court's ruling, if voters cast their votes at the wrong polling place, even if they did so by the instruction of poll workers, their votes will not be counted.
So, if you are in Ohio, or in any of the 13 states with active voter suppression laws, do your research before you go. Visit your Board of Elections website to check which polling station you should go to and which documents you will need when you get there.
Sandy's Aftermath.
And then there's Sandy — yes, that terrible hurricane / post-tropical cyclone / nor'easter that ripped its way across the Northeast and parts of the Midwest this week. Estimates predicted that nearly 60 million people would be affected by Sandy's fury. They were. Sixty million is equivalent to about half of all voters in 2008.
The date of presidential elections is set by federal law. It would take an act of Congress to move the date, which is unlikely. So, storm-ravaged municipalities are working now to set up makeshift polling areas. WNYC reports that the New York Board of Elections is considering using pop-up tents and generator power in affected areas to ensure New Yorkers' capacity to vote on Election Day. Also, Manhattan Borough President, Scott M. Stringer, tweeted today that New York State is extending its absentee ballot deadline from Oct. 30 to Nov. 2. This will help alleviate long lines on Election Day.
If Sandy rolled over your area, you can find out how to vote in your area, check your state and local Board of Elections websites.
Voter Intimidation
The Tea Party-backed organization, True the Vote, has vowed that it will unleash a million poll watchers to stop voter fraud on Nov. 6. A recent report by the non-partisan Institute for Research and Education on Human Rights revealed that True the Vote's activities in North Carolina have targeted predominately African-American counties and municipalities.
And over the past week reports have surfaced of bogus poll watcher trainings being conducted. In New Mexico, poll watchers were instructed during training that Spanish language ballots and interpreters would not be present at the polls and photo ID would be required to vote. Both assertions are not true.
Think Progress reports some instances where poll watchers in Wisconsin were instructed that any "person [who] has been convicted of treason, a felony, or bribery" cannot vote. That is not true in Wisconsin. If they've served their time, then they can vote. The report lists several other discrepancies.
Thankfully, civil rights groups will be out in force monitoring Election Day hot spots. So, pull on your boots, wade through the flood waters, and know that you will not be alone at the polls.
Super PAC Obstacle Course of Distortions and Lies
According to the New York Times, since the start of the presidential campaign, Super PACs have spent nearly $487 million on paid media and other tactics to sway voters toward their candidate and away from the political "enemy." I was recently in Cedarville, Ohio where I spoke for Cedarville University's American Dream Conference. In all my years, I have never experienced the non-stop vitriol, distortions, and outright lies that spewed forth from the television set in my hotel room. Between long blocks of Super PAC ads, actual television shows desperately competed for attention in that key swing state. What must it do to the soul to face a constant barrage of distortions and lies claiming to be indisputable fact? What must it do to the mind? How does one clear the mind and the spirit long enough to hear the voice of God in all the chatter?
In any given election year there are antagonists that block the paths of determined voters. This year a unique set of challengers, all pumped up on steroids, sit poised glaring at voters who dare to wade into the quagmire they will encounter on Nov. 6.
Perhaps there is no better time to do as my friend Rev. Troy Jackson, faith-community organizer in Ohio, called us to do in an article posted here last week; Turn Down the Noise: Fast, Pray, and Vote. For we must ground ourselves; plant our roots in the soil of spiritual truth. We are made in the image of God. We are commanded to exercise our dominion and in a democracy that includes exercising our right to vote. We are worthy of equal protection under the law. And we are not alone. Not only will the civil rights lawyers be there watching our back. But the God of the universe will be there ready to part the waters.
And when God does, let all the people say, "Amen."
More from Watch the Vote series
Lisa Sharon Harper is the Director of Mobilizing at Sojourners. She is also co-author of Left, Right and Christ: Evangelical Faith in Politics and author of Evangelical Does Not Equal Republican ... or Democrat.