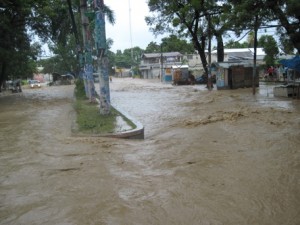 There's been considerable rain where we live in Haiti, and there are also wind gusts. I fear for folks in Leogane and elsewhere who are vulnerable to flooding. Hurricane Tomas has created major flooding in Leogane, Les Cayes, and other coastal cities. Thus far, we've learned that four people have lost their lives in Leogane.
We observed a large tree down along with minor flooding in Port au Prince. I'm sure there's more flooding in the city even if its not major. While water was high in the back roads of the Gressier/Leogane area, we were able to make it all the way to Cabois Community School, situated beside a large river. Fortunately, no homes have been lost and no one has been injured in Cabois.
We've also received a message from one of our Disciples Program leaders, Ysmaille Dorsainvil, who lives and works in the Central Plateau, where the cholera outbreak began. As soon as Ysmaille learned about the outbreak, he connected with a local nurse and organized a meeting with 38 members of his network as well as other community members. At the meeting, they learned about what cholera is, how it spreads, and how to avoid and treat it.
As of October 27, it's reported that 292 people have died, and 4,147 people have been hospitalized. Those numbers are being updated, but for now we're encouraged to see how leaders and educators in our programs are mobilizing by using the internet to circulate critical prevention and remedy information, organizing community meetings, showing cholera videos in tent camps, etc.
We can't thank you enough for your prayers and concern for the people of Haiti. Below is my footage from some of the flooding in Haiti:
John Engle is co-director of Haiti Partners.
Got something to say about what you're reading? We value your feedback!