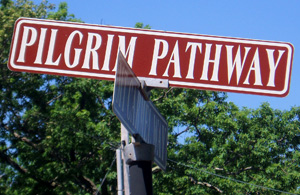 Recently, I've begun to think how I can reconnect with God by turning all my travels (including my everyday errands) into pilgrimages. In this quest, I am greatly aided by the Rev. Kurt Neilson, author of Urban Iona. He reminds me repeatedly, "The journey is the goal. And the road is made by walking. Been said by many, in so many words more or less." Kurt guided me towards Phil Cousineau's book The Art of Pilgrimage
as a tool to help ground me in my journeys. Cousineau defined pilgrimage as,
The art of movement, the poetry of motion, the music of personal experience of the sacred in those places where it has been known to shine forth. If we are not astounded by these possibilities, we can never plumb the depths of our souls or the soul of the world.
During a recent mini-pilgrimage to the U.K. and Poland, I soaked in the 'Richard Long: Heaven and Earth' exhibit at the Tate Britain. Long, a native of Bristol, England describes his work as "just about being a human being living on the planet and using nature as its source." On display are over 70 pieces of art including sculptures, new large-scale mud works, and photographic and text works which document over40 years of Long's walks around the world. As Long walks through the landscape, he stops to make simple adjustments such as creating a geometric rock circle or traversing a path until a line appears in the grass. Through his quiet reflective work, I could hear the soil whispering to me as the pebbles playfully winked at me to come outside and play.
As much as I want to travel like in a quiet manner like Long, I'm just not wired that way. Instead, I find myself drawn to the pilgrim stories of those who, like the late Mike Yaconelli, walked a more crooked path. For example, when I first met Brennan Manning, I felt an immediate bond with this dude, who is just as messy as me. We're both kind of raggly in our own ways. I reflected on his latest book The Furious Longing of God
in The High Calling.
His stark honesty as he bore the scar tissue of his life brought tears to my eyes. I wasn't expecting a book to connect with me on such a visceral level. Through Brennan's story, I saw how I had veered off the path. For all of my talk about how we need to put the Greatest Commandment into practice, I wasn't exactly practicing what I preach. During the past year, I had been focused so much on trying to "do good" and "help people" that I had failed to love them just as they are. When several people let me down, my anger got the better of me and some things came out of my mouth and pen that were more critical than Christlike.
I found a similar traveler as I was reviewing Paul Wilkes' book In Due Season for U.S. Catholic. Wilkes describes himself as the anti-Merton, a moniker that resonated with my often restless soul. Throughout his life, a quiet voice kept calling Wilkes' name, leading him to start walking down some rather unexpected paths. But as soon as he seemed to find his faith footing, Wilkes would venture off again down some self-destructive avenue. But somehow God kept calling his name until finally he found his way home.
Through fellow travelers like Mike, Brennan, and Paul, I am reminded one can be a Christian even if one comes down with the occasional case of the spiritual rickets and starts walking around a bit bowlegged. Thanks be to God.

Becky Garrison recently returned from Slot Art Festival, an international gathering of about 5,000 young adults. While there, she participated in Kalejdoskop, the Global Roundtable for Emerging and Underground Ministries, and led a series of talks on Church in the 21st Century.