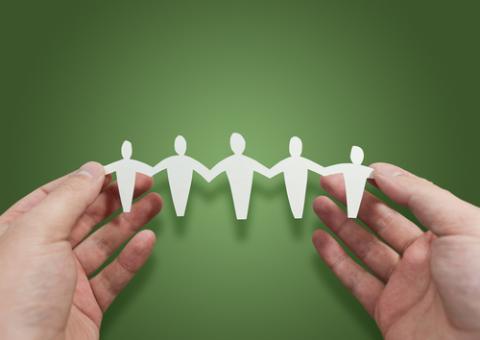 As an interfaith advocate, I find total inspiration in Dr. Martin Luther King's multi-layered approach to peace and justice:
"Make a career of humanity. Commit yourself to the noble struggle for equal rights. You will make a greater person of yourself, a greater nation of your country, and a finer world to live in."
The reason that I do interfaith, and the reason I signed the pledge to be Better Together, is because I believe that religion can be used as a tool for good in all three layers that King is referencing: in our world, in our country, and in ourselves.
1. Internationally, we're better together.
There are really big problems facing the world. If we're going to try to make a positive impact, we might as well do it together.
Take environmental issues. According to Rajendra K. Pachauri, chairman of the Intergovernmental Panel on Climate Change, "Nobody on this planet is going to be untouched by the impacts of climate change."
Rising water levels, intensified weather storms, resource shortages, and more, will affect all religious and cultural communities. United under these common threats, not nearly limited to only global warming, religious and cultural communities must collaborate under common values to be a part of the solution.
2. Nationally, we're better together.
The United States is one of the most religiously diverse countries in the world. If we're going to lead the world into a 21st century of universal acceptance, we have to stand up against intolerance toward any community.
During a recent visit from Dr. David Ford of the Cambridge Inter-Faith Institute to the Kaufman Interfaith Institute in Grand Rapids, Michi., he commented that "in a democratic culture, misunderstanding and discrimination really matters." Discrimination has consequences larger than the personal impact; discrimination is an exclusionary act and goes against what the United States stands for in allowing all to express their views and beliefs. Things like bigoted social media posts and biased news reporting act counter to creating a culture of equality and acceptance. It's our responsibility to be just as loud as the voices of religious intolerance, and the only way we'll build that volume is by doing it together.
3. In our personal lives, we're better together.
If we're going to create a culture of cooperation, we must start with our own personal lives and relationships.
It can be easy to remain isolated into our own groups, but when people are around others who hold beliefs different than their own, they don't only learn more about others but they also learn more about themselves. The model of outreach offices for religious organizations in order to both promote awareness about their own faith while also engaging others into their community is a perfect example of how faith traditions in the context of other traditions can enrich both the insider and outsider to the tradition. With these transforming relationships, we can find more personal clarity by joining our religious or non-religious journeys alongside others.
With this cooperation and collaboration — whether it is between campuses, communities, or governments — inspiration will ensue and ideas will sprout. And by creating these models of cooperation across commonly divisive lines, we do one the most important and meaningful thing we can do – provide signs of hope for the future. These signs of hope will continue to motivate more people to challenge themselves and those around them to seek solutions by crossing boundaries.
Eventually, these isolated interfaith instances, these individual signs of hope, will add up to something meaningful. In fact, across the country and world, they already have. Civic partnerships between representatives of the world's religions have led to advocacy for more environmental action. Newly found friendships have turned conflict into cooperation — like the Imam and the Pastor in Nigeria who went from preaching violence to promoting tolerance . Ordinary individuals have become role models for exemplifying their spiritual values and sharing it with others.
But these instances are not the norm yet. That's why I signed the pledge to "be blue" on April 10 for Better Together Day, a national day of awareness for the mission of interfaith cooperation. I signed the pledge is because despite all of the progress, there is still a long way to go before these acts of cooperation and solidarity are more common than conflict and intolerance.
The aim of Better Together Day, and the action that will follow, is to broadly introduce the American public to the movement to make interfaith cooperation a social norm. By coming together, religious and non-religious communities can "make a career of humanity" on all three levels like as King suggested.
These acts of solidarity will continue to motivate us to discover what it means to be live in a diverse world, how we can use that to seek solutions together rather than apart and ultimately help us find inspiration in our differences as well as commonalities.
Katie Gordon is the Program Manager of the Kaufman Interfaith Institute at Grand Valley State University, where she works on both community and campus programs to promote interfaith understanding and appreciation. In addition, she is a Newsroom Intern at WGVU, a local NPR-affiliate, where she has helped produce stories on local community issues.
Image: Better together concept, solarseven / Shutterstock.com