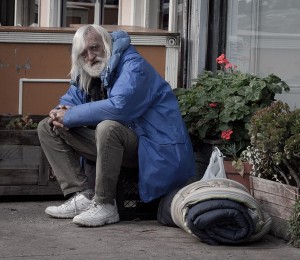 The Gubbio Project, which helps churches become refuges for homeless people throughout the U.S., recently earned a new fan: Author Anne Rice. "When I was in San Francisco, I visited St. Boniface Church in the Tenderloin and was moved by the sight of many peaceful homeless people sleeping in the pews of the church," Rice wrote on her Facebook.com page earlier this month. The author of the Vampire Lestat books and most recently the biblically-themed Christ the Lord novels and her spiritual memoir, Called Out of Darkness, provided her "people of the page" as she calls them, a link to the Gubbio Project where they could donate to "this fine work on the part of the Franciscans of St. Boniface in helping the homeless."
World Champion boxer Yuri Foreman is studying to become a rabbi, CNN reports. Foreman, 31, born in Belarus, came to the United States 10 years ago by way of Israel. "It was forbidden to have synagogues," Foreman said of his early life in the former Soviet Union. "Many Jews forgot about their roots. The only real reminder was in their passport; under nationality, it said 'Jew.'" Three years ago, the boxer began rabbinical training with a rabbi in Brooklyn, a few miles away from his training gym, Gleason's. Foreman, who is on track to complete his rabbinical studies soon, says he hopes to work with young adults, perhaps even using boxing as a means to connect with them spiritually.
Take a look at Interdependence Day, a new documentary short film inspired by 9/11 about the importance of collaboration in solving "cross border" issues such as climate change and economic inequity. The film features the music of Moby, an unconventional Christian who sat down a few years back with our very own web editor, Cathleen Falsani, to talk all things spiritual. You can read the transcript of their chat HERE.
Jonathan Edwards, who is most famous for his sermon "Sinners in the Hands of an Angry God," is the focus of a new theological journal at Yale Divinity School's Jonathan Edwards Center. Earlier this month, the journal -- Jonathan Edwards Studies -- debuted featuring new articles that explore the life and theology of one of the nations' most revered preachers.
Listen to author Eric Metaxas talk about his new book on Dietrich Bonhoeffer, Bonhoeffer: Pastor, Martyr, Prophet, Spy. Bonhoeffer was a Christian theologian who was executed for his participation in an attempt to assassinate Adolf Hitler.