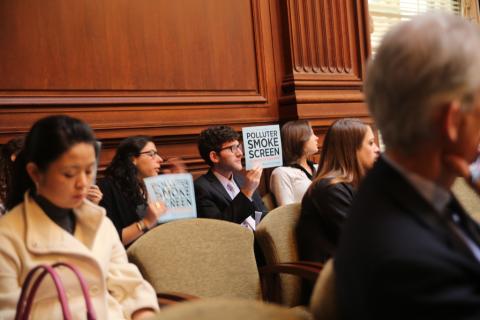 Editor's Note: This post contains two of many testimonies given at an Environmental Protection Agency listening session at EPA headquarters in Washington, D.C. The EPA held sessions in 11 regional offices across the country to allow the public to comment on the agency's plans to begin regulating carbon dioxide emissions — one of the heat-trapping pollutants that contributes to climate change — from existing coal and natural gas-fired power plants. The public was invited to share up to three minutes of spoken testimony to an EPA panel for the agency's consideration.
My name is Dr. Jalonne L. White-Newsome and I am a federal policy analyst at WE ACT for Environmental Justice, a 25-year-old community based environmental justice organization based in Harlem, N.Y. However, I work out of our Washington, D.C. office, mostly engaging in federal policy. Although I am in a different location, WE ACT D.C. has the same mission: to build healthy communities by insuring all voices help shape environmental policy and practices so that they are fair.
As a public health researcher who has seen the impacts of temperature, air pollution, and climate changes on urban-dwelling seniors in low income communities of color, I am clear about the need for and the importance of the testimony that I, and hopefully other environmental justice organizations, will offer here today. While three minutes is not a lot of time, I do have a couple of "calls to action" to uplift as you continue your work:
Recognize the deficiency.
Recognize the cumulative impacts.
I'll speak first on recognizing the deficiency.
Reducing carbon dioxide emissions will offer health benefits, particularly in low income communities of color, that are already inundated with pollution from many sources.
The President's Climate Action Plan — which is part of the reason we are here today — did not address, acknowledge, or even mention the words "environmental justice" in the 22 pages of the plan. This is a major deficiency, especially in light of the U.N.'s Intergovernmental Panel on Climate Change's continued recognition that it is the poor and most vulnerable populations, even in the most advanced societies, that are on the frontlines of the climate crisis and this President's commitment to environmental justice.
The U.S. EPA cannot talk about improving air quality and combatting the climate crisis by pretending environmental injustices don't exist, and not making environmental justice a part of the plan for action, especially in Pillar number one, which addresses "Cutting Carbon Pollution in America."
My second point is recognizing the "cumulative impact."
Cumulative impacts recognize the impact of all sources of pollution. In environmental justice communities, pollution — especially air pollution — does not happen in silos. In Harlem, N.Y., as well as in cities where many of our environmental justice colleagues live, we are impacted by carbon dioxide, as well as other sources of pollution, such as other urban air toxins that are known to cause cancer.
It is not enough to only evaluate the emissions at the affected source. We must use a systems approach as we strive to reduce and eliminate the multiple exposures people in environmental justice communities face. States like Minnesota, New Jersey, and California are using and developing environmental justice screening tools and cumulative risk frameworks to aid in permitting decisions.
It would be extremely helpful if the EPA could craft guidance for states that includes environmental justice and cumulative impacts. It could highlight the importance of establishing a more robust emissions evaluation system that doesn't simply count emissions in silos, but captures and considers the full exposure profile of a community, which might require stricter standards in some areas.
If the EPA could set a broad precedence and direction, states would have more flexibility in evaluating emission sources and setting standards that are well-informed and more impactful, because a cumulative risk framework will provide an actual estimate of risk, and therefore, better protect human health and life. This type of method should be a part of the guidelines you establish for existing power plant rules.
In conclusion, environmental justice should be a part of any plan to address air quality and climate. We can no longer look at air pollution in silos, but instead we must consider the cumulative effects of all carbon dioxide emitters in order to better protect the communities that are more vulnerable to air pollution and climate change.
Dr. Jalonne L. White-Newsome is a federal policy analyst at WE ACT for Environmental Justice.