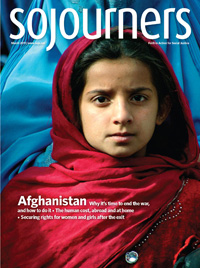 In as clear a statement as has been made, Rep. Jim McGovern (D-MA) and Rep. Walter Jones (R-NC) issued a clarion call this morning in a Washington Post op-ed entitled, "The Solution in Afghanistan: Get Out." They make all the reasons very plain, and the enormous budget pressures now at the forefront of our political debate make new decisions about the massive costs of an endless war that can never be won necessary.
The small percentage of Americans who have borne the brunt of the human costs of this war, the utter corruption of the government we are supporting, and the toll in Afghan civilian casualties all make the continuing of this war immoral. We need an exit strategy now, and one that protects the people of Afghanistan, not one that further rationales the continued carnage.

Jim Wallis is the author of Rediscovering Values: A Guide for Economic and Moral Recovery, and CEO ofSojourners. He blogs at www.godspolitics.com. Follow Jim on Twitter @JimWallis.
+Click here to get email updates from Jim Wallis
+Read Sojourners magazine's March 2011 issue on how to end the war in Afghanistan.