On Aug. 9, 2014, Michael Brown was killed by Ferguson, Mo., police officer Darren Wilson. In the year that followed, the #BlackLivesMatter movement challenged our nation — and our faith communities — to actively resist systemic racism. But "the church cannot be challenged without also changing our theology," Ryan Herring writes in Sojourners (Sept/Oct 2015). So we asked people of faith: how has the Black Lives Matter movement shaped your theology?
Reflections on #BlackLivesMatter 1 Year After Michael Brown's Death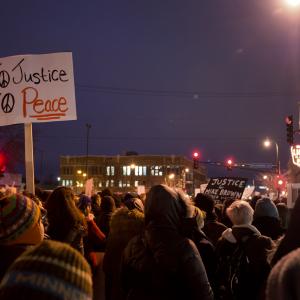 It's a call and response chant started on the streets of Ferguson that has spread across the nation.
"Mike Brown means ..."
"... we got to fight back!"
It rolls off my tongue in a sing-chant cadence, and my hips begin to sway, because I have yelled it as I've marched and rehearsed it in my dreams. It is bitter and sweet. We evoke Mike's name and sway and pledge to fight. I've listened to voices I know and those I don't call and answer in hours of live stream and together in front of court houses and I know, I know in my soul what Mike Brown means.
Mike Brown means ... something more. Something larger than one more young black man shot in his neighborhood.
One year later, Mike Brown means ... something more.