Republican Sen. John McCain of Arizona, a former prisoner of war in Vietnam who ran unsuccessfully for president in 2008, died on Saturday at age 81, according to a statement from his office on Saturday.
McCain had been battling glioblastoma, an aggressive form of brain cancer discovered in July 2017 and had not been seen at the U.S. Capitol in 2018. McCain had undergone surgery in mid-April for an intestinal infection.
McCain was known as a conservative and a foreign policy hawk with a traditional Republican view of world affairs. He had a reputation for a hot temper and rarely shied away from a fight but had Democratic fans who admired the way he could take a civil, bipartisan approach.
McCain was the chairman of the Senate Armed Services Committee and his colleagues named the $716 billion defense policy bill for him. President Donald Trump did not mention McCain when he signed it earlier this month.
"Very sad to hear this morning's update from the family of our dear friend @SenJohnMcCain," Republican Senate leader Mitch McConnell said on Twitter, in reference to McCain's announced decision to not continue treatment. "We are so fortunate to call him our friend and colleague. John, Cindy, and the entire McCain family are in our prayers at this incredibly difficult hour."
Former secretary of State John Kerry, a Democrat who served in the Senate with McCain, tweeted, "God bless John McCain, his family, and all who love him — a brave man showing us once again what the words grace and grit really mean."
McCain was the son and grandson of Navy admirals and after graduating from the U.S. Naval Academy became a fighter pilot during the Vietnam War. He was shot down during a bombing run over Hanoi and captured on Oct. 26, 1967. The crash and assault by his captors left him with two broken arms, a broken leg, broken shoulder and numerous stab wounds.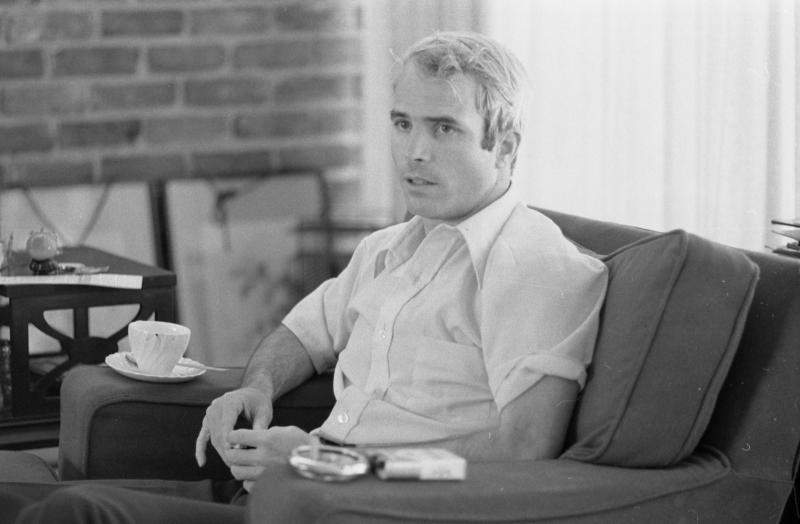 He spent the next 5-1/2 years in various prisons, including the notorious "Hanoi Hilton," where he was tortured and left with lasting disabilities.
McCain provided one of the most dramatic moments in recent Senate history in July 2017 when he voted against a Trump-backed bill that would have repealed the health care law pushed through by President Barack Obama.
The vote came late at night not long after McCain's diagnosis and he still bore a black eye and scar from the surgery when he gave an emphatic thumbs-down gesture to scuttle the measure.
Trump was furious about McCain's vote and frequently referred to it at rallies but without mentioning McCain by name.
McCain was elected to the House in 1982 and after two terms was elected to the Senate to replace retiring conservative leader Barry Goldwater.
Got something to say about what you're reading? We value your feedback!