(Note: This post was updated on February 7, 2008, at 1:35 p.m. following Mitt Romney's decision to suspend his presidential campaign.)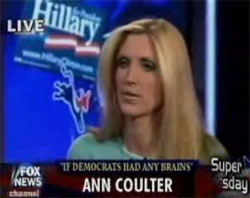 Conservative pundits and Religious Right power-brokers went into extra innings to ensure that Mitt Romney would score some serious home runs on Super Tuesday. As they stepped up to the plate, some of their plays veered into foul territory.
For example, Ann Coulter struck out by stating that if McCain wins the nomination, she will actually campaign for Hillary Clinton. When asked on Inside Edition what she thought of Coulter's compliment, Clinton burst out laughing and then said with a smile, "See I told you I could bring this country together." Some days the material just writes itself.
While Coulter appeared to make this comment tongue in cheek, given her penchant for outrageous antics, I wouldn't rule out the possibility that Coulter could pretend to be "a Hillary girl." After all, this primary season has proven to be full of surprises (for starters, I never thought I'd see Oprah step into the political ring.)
Speaking of unexpected moves, Dr. Dobson hit a sacrifice fly when he proclaimed that if the choice for president boils down to McCain vs. Clinton, he won't vote. Back in April 2007, Religion News Service named Dobson as one of the "Top Ten Religious Right Power Brokers." But as David Kuo comments on his blog, J-Walking, "By putting himself out there so forcefully, Dr. Dobson risks playing the role of Dr. Kevorkian in ushering in the end of the old-line religious right."
Given the Religious Right's ability to reclaim their stronghold in 1994 after the Moral Majority was declared DOA, I don't assume that these lumbering giants can't reawaken from their slumber. But for now, these former godly gurus seem to have lost the spiritual stronghold they once had on the evangelical vote. The Super Tuesday poll results indicated such desperate moves on the part of Dobson and Coulter failed to sway voters to select their preferred candidate. Instead, the Bible Belt voters showed their support for Mike Huckabee, with John McCain following a close second.
Does this mean that their millions of followers are no longer following Dobson and Coulter? Time will tell. I suspect Dobson and Coulter offered their anti-McCain claims with the hopes of convincing virtuous voters into supporting Romney. Given Mitt Romney's poor showing on Super Tuesday, which resulted in his decision to suspend his presidential campaign, clearly Dobson and Coulter's scare tactics failed miserably. Now that it looks very likely that McCain will become the Republican presidential nominee, will Dobson fade into the political background?

Still, something tells me the odds of Ann and Hillary holding hands and singing "It's a Small World" are slim to none. Call it a strong hunch.



Becky Garrison's critiques of Ann Coulter can be found in her book The New Atheist Crusaders and Their Unholy Grail and the Amazon.com short Contemplating Coulter Christianity.