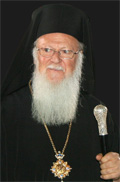 The bearded, robed, and bespectacled keynote speaker at Georgetown University's Gaston Hall on Tuesday made a wise first move. His All Holiness Bartholomew I, Ecumenical Patriarch of the Orthodox Christian World, began his speech by naming the elephant in the room. "It may appear strange," he acknowledged, "for a progressive think tank to sponsor a lecture by the leader of a faith that takes pride in how little it has changed in 2000 years."
But as this leader pointed out, so-called progressive terrain -- like care for the sick or the environment -- is not the sole preserve of today's "progressives." In fact, it never has been.
Even though our faith may be 2000 years old, our thinking is not
Got something to say about what you're reading? We value your feedback!