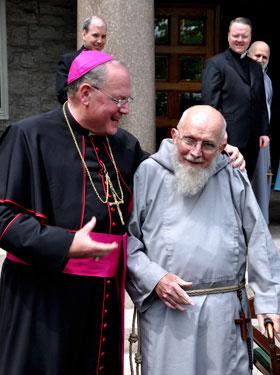 NEW YORK — The Rev. Benedict Groeschel, whose comments defending priests who sexually abuse children sparked a firestorm of controversy (see related story here), on Thursday evening apologized for the remarks. Groeschel had said that priests who sexually abuse children "on their first offense" should not go to jail and added that in "a lot of cases," the child is "the seducer."
The religious community he founded, the Franciscan Friars of the Renewal, based in New York, also denounced the comments. The statements followed a wave of condemnation that grew in the days since the interview with Groeschel was first published.
Both apologies said the prominent priest's declining health played a role in his comments.
Here is Groeschel's statement:
I apologize for my comments. I did not intend to blame the victim. A priest (or anyone else) who abuses a minor is always wrong and is always responsible. My mind and my way of expressing myself are not as clear as they used to be. I have spent my life trying to help others the best that I could. I deeply regret any harm I have caused to anyone.
The statement from his community says:
The Community of the Franciscan Friars of the Renewal sincerely apologizes for the comments made by Fr. Benedict Groeschel in an interview released yesterday by the National Catholic Register, online addition [sic]. In that interview, Fr. Benedict made comments that were inappropriate and untrue. A child is never responsible for abuse. Any abuser of a child is always responsible, especially a priest. Sexual abuse of a minor is a terrible crime and should always be treated as such. We are sorry for any pain his comments may have caused. Fr. Benedict has dedicated his life to helping others and these comments were completely out of character. He never intended to excuse abuse or implicate the victims. We hope that these unfortunate statements will not overshadow the great good Fr. Benedict has done in housing countless homeless people, feeding innumerable poor families, and bringing healing, peace and encouragement to so many.
Fr Benedict helped found our community 25 years ago with the hope of bringing the healing peace of Jesus Christ to our wounded world. Our desire has always been to lift-up humanity and never to hurt. About seven years ago, Fr. Benedict was struck by a car and was in a coma for over a month. In recent months his health, memory and cognitive ability have been failing. He has been in and out of the hospital. Due to his declining health and inability to care for himself, Fr. Benedict had moved to a location where he could rest and be relieved of his responsibilities. Although these factors do not excuse his comments, they help us understand how such a compassionate man could have said something so wrong, so insensitive, and so out of character. Our prayers are with all those who have been hurt by his comments, especially victims of sexual abuse.
David Gibson is an award-winning religion journalist, author and filmmaker. He writes for RNS and until recently covered the religion beat for AOL's Politics Daily. He blogs at Commonweal magazine, and has written two books on Catholic topics, the latest a biography of Pope Benedict XVI. Via RNS.