[Editor's Note: This week we will have a series of reviews on films with a focus on immigration. Check back each day for a new film review, and visit www.faithandimmigration.org for more information]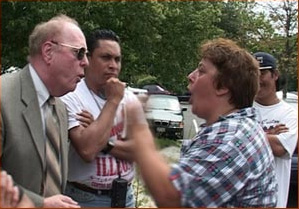 The documentary Farmingville tells the story of a suburban, Long Island town named Farmingville that made national headlines in the early-2000s when conflict over a sudden influx of Mexican day laborers tore the town in two. It's the unique story of one particular town's response to change and conflict, but it is also a story of unresolved national questions about labor, the economy, and immigration that are probably playing out in your communities, too.
From 2004 to 2008, I was the pastor of St. Michael's Lutheran Church in Amagansett, another small town on Long Island that experienced a significant influx of immigrants and struggled to handle the changes this brought. As a pastor who was called to help my congregation in its outreach to the Latino immigrant community, I was keenly aware of the tension between brown and white, immigrant and "local." But I held onto the hope that by bringing together recent immigrants and long-time residents as one community of faith, we were providing a new space for neighbors to know one another, and witnessing to God's vision for a feast where all are welcome.
At St. Michael's, we sang "Alabaré" and "Amazing Grace" in worship, and enjoyed empanadas alongside steamed clams and macaroni salad at our potlucks. New and old members learned one another's children's names, and chatted about work and family. But I worried that they weren't sharing some of their most important stories, and I wasn't sure how to change that.
Enter Farmingville. As a pastor I longed for people to know one another more deeply, and I hoped that in sharing stories of risk and loss, economic worries and distant family, we could help change the conversation about immigrants and immigration in our town. But for some people, sharing their stories was risky. In a community fraught with tension over a changing economy, housing pressures, race, and immigration, it's understandable that an immigrant would be reluctant to speak about crossing the desert to enter the U.S., or dirt-floor poverty in her home country, and understandable that a polite non-immigrant wouldn't ask. But I wonder what would have happened if we had sat down to watch Farmingville together, to hear and respond to the story of a town a few miles up the Island -- familiar, but not quite so risky and raw as naming the tensions in our own community.
Recent research suggests that in our increasingly polarized society, many churches are among the few remaining spaces where people sit, week after week, side-by-side, with those who don't agree with them politically. This is a kairos moment -- the debate over immigration policy is once again heating up, rhetoric about immigrants is getting uglier, and more states are following Arizona's lead in targeting immigrants through state legislation -- and in this moment, the unique spaces of our churches hold before us both the opportunity and the responsibility to have honest conversations about immigration and justice, our stories, and our faith. Farmingville tells a story that can help us do it.
Rev. Yvette Schock is the National Grassroots Coordinator for the Interfaith Immigration Coalition.
+ FREE Download: "Reel Images of Immigration: A Movie Guide to Discussing Faith and Immigration": Check out movie summaries and discussion questions on featured immigration films. Plus, learn how to host a film screening for your friends or small group.