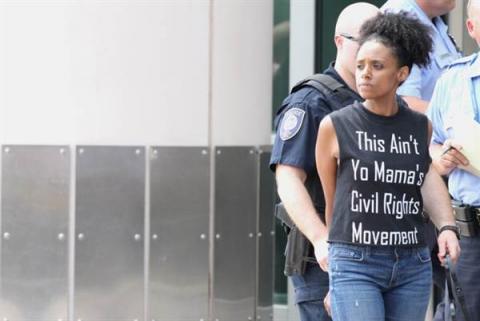 Today's radical black Christians may not line up with the United States' romanticized image of Dr. Martin Luther King, Jr.
In an Op-Ed over at NBCBLK, Brooke Obie discusses how many of the leaders at the forefront of the Black Lives Matter movement draw on deep Christian wells to inspire their activism, but express that faith very differently than the old heroes of the 1960s. Obie writes:
Unlike the leaders of the 1960s, who dismissed victims like teenage mom Claudette Colvin in order to champion the cause of the more sympathetic victim Rosa Parks, the Black Lives Matter movement seeks to highlight, defend and affirm all black lives. ...Shunning the emphasis on the cisgender heterosexual "respectability" and perfection of victims and leaders of the past, this generation's protests are loud, angry, rude and intentionally inconvenient for the beneficiaries of institutionalized racism, shutting down highways and interrupting everything from political rallies to brunch to demand that the humanity of black people be recognized and respected.

But at least one tie remains between the movements of the past and today — many protestors and movement leaders are Christians.

A far cry from the right-wing Coalition of African American Pastors that vowed civil disobedience in response to the Supreme Court's decision to uphold the constitutionality of marriage equality in June, many Christians in the black liberation movement are informed by an understanding of Christ as a table-turning, women-empowering, government-overthrowing, freedom-loving, social justice radical."
The op-ed goes on to highlight the voices of Rahiel Tesfamariam, Bree Newsome, Rev. Osagyefo Sekou, and Marissa Johnson — all activists who support the Black Lives Matter movement and draw inspiration from Jesus Christ.
Send Us a Note
Got something to say about what you're reading? We value your feedback!