Amanda Gross describes herself as a "weaver of things and people."
Gross, a fiber artist based in Pittsburgh, Pa., has been weaving things — from quilts to bags to skirts — for years. But, as a "weaver of people," Gross completed her biggest project yet this fall.
Gross is the head artist behind the Knit the Bridge project, a massive community effort that covered the Andy Warhol Bridge in Pittsburgh with knit and crochet panels. From August to September, Knit the Bridge workers installed 600 handmade blankets across the 1,061-ft. long bridge.
The democracy of art
Gross' idea for the project was inspired by yarn bombing, a movement that covers public places with yarn creations. Though Pittsburgh has been yarn bombed before, Gross wanted to take it "even bigger."
Gross said the word "bombing" is used colloquially as a sort of reclaiming of public space. Unlike graffiti or other forms of street art, yarn bombing doesn't do permanent damage and is often met positively, Gross said.
"I was really drawn to yarn bombing and how it's all about democratizing public space," Gross said. "It's by the people and for the people."
Gross said the Warhol Bridge both celebrates Pittsburgh, a city of many bridges, and reflects the project's intent to "bridge" communities that otherwise may not interact.
Knitting a movement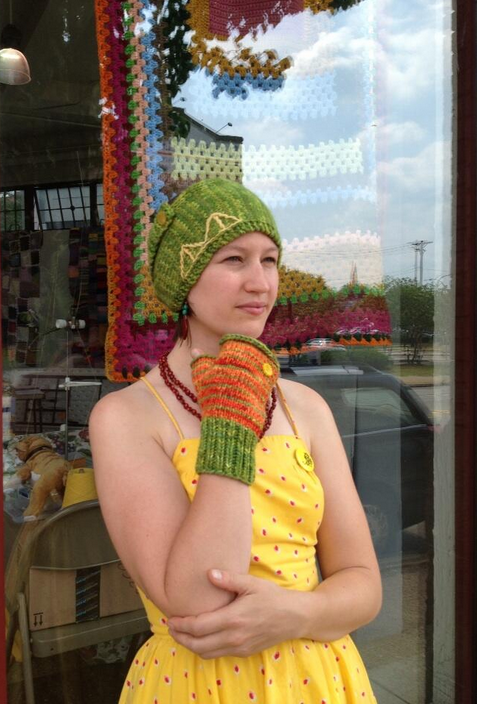 For a full year, Gross pulled thousands of people into the Knit the Bridge project.
Knitters from churches, senior centers, colleges, libraries, and community groups committed to providing knit panels. Outreach groups partnered with classrooms to teach knitting to youth and teens. Others donated money, community work space, and physical labor.
"Even though I was the lead artist," Gross said, "the project was intentionally designed to be grassroots with horizontal decision-making where a lot of people could give input and lead."
In Pittsburgh, 91 percent of the city's neighborhoods and Allegheny County municipalities participated in some form of the project.
"It was kind of practicing movement building," Gross said.
On Aug. 11, volunteers mounted the completed panels on the bridge, where they stayed for a month. Afterward, the blankets were laundered and donated to homeless shelters. Knit the Bridge is still working to creatively repurpose the fabric.
Lessons for the church
Gross, who received her master's in the intersection of art and peacebuilding at Eastern Mennonite University, was "interested in exploring not just the finished product, but the process itself."
For Gross, Knit the Bridge has applicable lessons for the church.
"Since people were making the work for a year, there [were] a lot of opportunities for 'doing living' differently," Gross said. "People helped in the ways they could, big or small."
"We didn't turn anyone down," she said. "We worked with people to find ways they could participate. It was inclusive and welcoming."
Gross noted the unpredictability she experienced as a leader can be similarly felt as a church leader.
"We were all pointed in the same direction, but what that was going to look like wasn't prescribed or known," she said. "Overall, it was out of my control."
Taking creative risks
Recently, Gross has been shifting the question of "What is art?" to "What is life?" She says the question "What is spirituality/religion?" can also be shifted to "What is life?"
Gross says the shift allows for "meeting people where they're at" and applying directly to people's lived experience.
"Art involves creative risk-taking. [Church] can be a kind of space to explore that in community or in collaboration with others."
Gross offers advice to those embarking on similar creative projects.
"Don't be discouraged by the logistics," she said. "It can happen and not be huge. The idea of creating work together is really exciting."
The project can be followed at Knit the Bridge.
Rebecca Kraybill is the editorial assistant at Sojourners.
Image: At the project's completion, almost 600 handmade panels covered the Andy Warhol Bridge. Courtesy: Knit the Bridge.
Got something to say about what you're reading? We value your feedback!