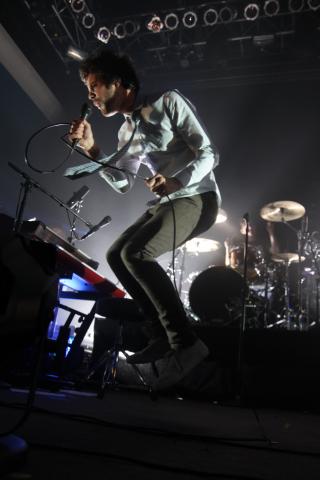 Usually when I write a review there's a general theme or idea that emerges and drives the piece. But, while still recovering from the damage to my ears after Tuesday night's Passion Pit show at the 9:30 Club here in Washington, D.C., I'm drawing a blank. It was that good.
In case you're out of the loop, Passion Pit have emerged over the last five years as a pretty big indie-dance-rock group from the Boston area, seamlessly mixing elements of Vampire Weekend, the Beach Boys, and 80s music, among many other sounds and influences. Passion Pit started as a side project of lead singer Michael Angelakos — one that he thought wouldn't go anywhere and was just for fun — and has quickly gained steam, releasing its second album last summer and performing on Saturday Night Live this past weekend.
On Tuesday they wrapped up three sold out shows in D.C. with a triumphant performance, inspiring even the more awkward, shy attendees to move a little. Even the guys who showed up because their girlfriends made them were getting into it.
Angelakos is well aware of Passion Pit's tendency for infectious catchy songwriting.
"People feel like they're always singing along," Angelakos told the Huffington Post. "There are always parts to sing along to. It's built into the music."
But the giddy pop is oddly complimented by darker serious lyrics. Gossamer, the group's newest album, has Angelakos singing in his signature high pitched falsetto about things like financial hardship, the point of happiness, and the nature of love.
But somehow it all works surprisingly well. At least, everyone else seems to think so. And I'm sure the more than 13,000 screaming fans will think the same come February when they play in Madison Square Garden.
[view:Media=block_1]
Brandon Hook is the Online Assistant at Sojourners.