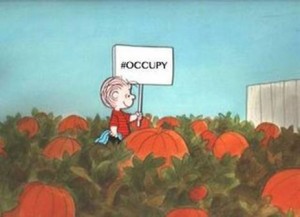 In a post titled, "Great Pumpkin Time: Linus Meets Reinhold Niebhur," Peter Feld at Scooter.com writes about the 45th anniversary of the animated Peanuts television special, Great Pumpkin, and what it has to say to us today:
There's something fantastically primal about the vivid palette of early color-TV mid-60s animation. Great Pumpkin, the third Peanuts TV special, first aired in 1966, introducing audiences to one of the most iconic moments in all comic-dom: For the first time on television, Charlie Brown tries to kick a football held -- and infamously yanked away -- by Lucy, sketching one aspect of the gender battles more expertly than a full shelf of self-help paperbacks.

Another great moment from the special to enter the cultural lexicon is the gang's trick-or-treat roundup: each time, the kids all gloat about their booty, while Charlie Brown mutters dejectedly, "I got a rock." (Stupidly, both the football and rock scenes were cut as the show aired in the '80s and '90s; Wikipedia assures us they have been restored by ABC.) Vignettes like these elevated Peanuts from just another comic strip to a deft rendering of mid-century anxiety - childhood and adult alike.

Children can laugh at silly Linus, waiting forlornly for his much-mocked alterna-Claus to rise up out of his "sincere" pumpkin patch, while grownups will instantly recognize the allusion to heretics and unheeded prophets throughout the ages. Linus's vigil perfectly distills Reinhold Neibuhr's observation that "frantic orthodoxy is never rooted in faith but in doubt. It is when we are unsure that we are doubly sure." (The Great Pumpkin never shows - but then again, Santa won't slide down the chimney, either.) And no deity ever had a cooler hymn than jazz legend Vince Guaraldi's "The Great Pumpkin Waltz."