On a Sunday in late June, CityWell UMC, a multiethnic congregation in Durham, N.C., featured a guest preacher. Slight and dark-haired, Samuel Oliver-Bruno stood near the front of the sanctuary, while staff member Katherine Guerrero, a recent Duke Divinity School graduate, translated his homily from Spanish to English.
Just six months earlier, Oliver-Bruno sought sanctuary at CityWell. On this Sunday, his wife Julia Perez-Pacheco and son Daniel Oliver-Perez were among the worshippers.
Oliver-Bruno is from Mexico and faces deportation after being denied another stay of removal in November. He told Sojourners he needs to stay in the United States to provide for his family. His wife has lupus, which has resulted in a heart condition that doesn't allow her to work, Oliver-Bruno said. Their son Daniel, a U.S. citizen, just graduated from high school and says he plans to attend a North Carolina college in the fall.
Oliver-Bruno is one of six people publicly in sanctuary in the state (a seventh doesn't want to be identified). During the 1980s, more than 100 churches sheltered Guatemalan and Salvadoran immigrants, and the movement has seen somewhat of a national revival in recent years. Though sanctuary churches often attract media attention, the men and women living behind church doors represent a network of families and communities living under the unpredictable threat of government-sponsored raids and arrests.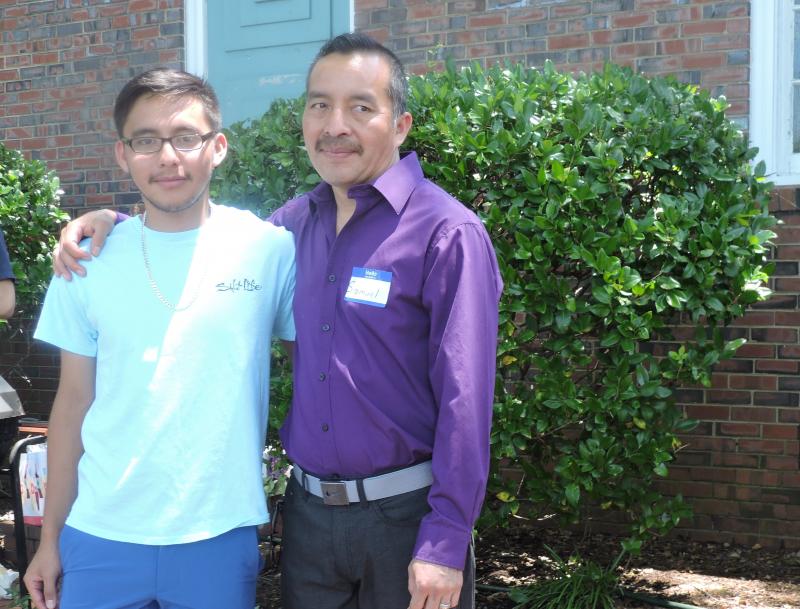 An estimated 350,000 undocumented immigrants live in North Carolina. In April, Immigration and Customs Enforcement raids in western North Carolina swept up more than 25 people, many of whom are still in prison and facing uncertain futures. Some have been deported.
In response, the North Carolina Council of Churches — a statewide ecumenical organization that initiated the NC Sanctuary Coalition — and area congregations have begun partnering with Latinx advocacy groups and local governments to provide direct and indirect support for families and people in these targeted communities.
"A lot of people entering sanctuary have been [in the United States] for 20 years," Rachel Baker, NCCC program coordinator for immigrant advocacy, told Sojourners. "For some people entering sanctuary, their only home is here. It's important that we don't force them out."
In their efforts to recruit more congregations, the NCCC offered a training day last fall for churches considering offering sanctuary. The organization offers multiple guides on its website for potential sanctuary churches and for congregations who want to support those congregations.
Considerations for congregations include having or designing appropriate living space, worship, and prayer oriented around sanctuary, and developing partnerships with immigrants' rights groups to advocate for the individual in sanctuary (and others).
"The church has to go through a discernment process," Baker said.
NCCC is also part of a campaign to prompt local city councils, like Durham, to ally themselves with the national sanctuary movement, but Baker says the designation of "sanctuary city" has been highly controversial in the state.
In Asheville, faith communities are working closely with Latinx rights organization Compañeros Inmigrantes de las Montañas en Acción (CIMA) to help jailed immigrants and their families and communities. In the wake of ICE raids, the group raised money to provide a $2,000 grant to each family, according to CIMA volunteer organizer Holly Roach Knight. Sometimes that money goes directly to the family's immigration lawyers instead of directly to the families, she said.
As part of the Sanctuary Council co-founded by CIMA, about 25 congregations have organized to directly support the families. Five congregations have taken on the role of "padrinos" (or godparents), sponsoring a detainee and helping their family members.
"[Padrinos are] not a paternal relationship, but it holds the same possibility for support and commitment to the wellbeing and life of a family," said Sara Wilcox, pastor of or Land of the Sky UCC in Asheville, which is part of the network of supporting congregations.
Land of the Sky is currently in the process making the physical alterations to enable it to potentially become another local sanctuary site.
But there's more to the movement than offering a physical refuge.
"It's about protecting the undocumented community from hateful policies coming down from the state and federal level," said CIMA volunteer Roach Knight. "It's feeding people. It's getting children to and from school. It's all encompassing of their needs. Sanctuary is not an opportunity for grandstanding — it's quiet work that has to be quiet."
In Durham, CityWell serves the broader immigrant community by welcoming Spanish-speakers and bilingual worshipers, according to Guerrero. On a recent Sunday morning, the songs and the onscreen liturgies are displayed in Spanish and English, and the worship band played comfortably in both languages.
Asked how they felt about housing Oliver-Bruno, two CityWell congregants chatting after the worship service ended were unabashedly enthusiastic.
Applauding Oliver-Bruno's "hopeful message," middle-school teacher Olivia Van Horn said hosting him showed "true courage." Getting to know Oliver-Bruno might help the multiethnic, yet predominantly white, congregation develop a deeper understanding of what it means to be inclusive and understanding of differences, she said, while emulating the biblical model of service.
"For me, having Samuel here is like having a friend," nurse Mary Clare Weiner-Kerr said. "It feels like a call to get to know another brother, and to stay present in people's lives."
There are an estimated 44 people who have sought sanctuary in congregations around the United States. NCCC immigration coordinator Baker says the network of North Carolina churches hopes eventually to have 100 congregations providing shelter. She and others hope that this would provide a new form of public pressure for immigration reform.
In June, Oliver-Bruno couldn't attend Daniel's high school ceremony, so his support team at CityWell prepared a celebration at the church.
Though both father and son said they were sad he wasn't able to attend, Samuel said he hopes he is able to be there for the next big event: Daniel's college graduation.
Got something to say about what you're reading? We value your feedback!