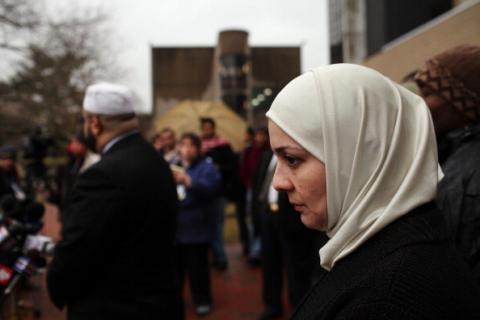 NEWARK, N.J. — Amid concern over the New York Police Department's surveillance of Muslims beyond New York City, New Jersey and federal law enforcement officials plan to hold a summit Saturday (March 3) to assure Muslim leaders that they are addressing the NYPD probe.
Amin Nathari, a spokesman for Newark's Muslim Community Leadership Coalition, said Muslim leaders planned to meet in Trenton with representatives of the FBI, the New Jersey State Police and the state Office of Homeland Security and Preparedness to discuss the NYPD operations.
The U.S. Attorney's Office of New Jersey, the state police and the FBI's division in Newark confirmed they plan to attend, but offered no specifics. The state Attorney General's Office and Homeland Security declined to comment.
As details of the summit were being finalized, talks were already under way between state and NYPD officials about the recent revelations of Muslim surveillance, according to a high-ranking state law enforcement official who requested anonymity because the talks were confidential.
A spokesman for Gov. Chris Christie declined to comment, as did the NYPD.
The talks came during another day of strong reactions to an Associated Press report last week detailing how in 2007, the NYPD began monitoring Muslim-owned businesses and houses of worship in Newark.
The NYPD and New York City Mayor Michael Bloomberg have strongly defended the tactics and dismissed criticisms by Christie and Newark Mayor Cory Booker.
Calls for a New Jersey investigation into the NYPD probe continued Tuesday. Rutgers University President Richard McCormick said in a letter to state Attorney General Jeffrey Chiesa that the surveillance of student groups was of "grave concern." McCormick said students and alumni had "expressed a deep sense of betrayal, mistrust, frustration, and fear as a result of the NYPD's alleged actions."
"They are concerned about whether they can ever feel safe from unwarranted and unjustified police surveillance because of their religious beliefs and the practice of their faith," he said.
In Washington, U.S. Attorney General Eric Holder told federal lawmakers that the Justice Department was reviewing requests to investigate the NYPD's intelligence operations.
"We're in the process of reviewing those letters to determine what action, if any, we should take," Holder told a House subcommittee.
Although he was unfamiliar with the specifics of the NYPD's intelligence operations and declined to comment on their actions, Holder said that in general, law enforcement needs to have some reason to believe an investigation is warranted before taking action.
"In performing these law enforcement functions, we have to take into account the cost benefit here," Holder said.
In Newark, Muslim leaders demanded local and statewide action to protect their community from further surveillance. They called for Christie to renegotiate the terms of NYPD's authority to operate in New Jersey.
"The policies and tactics used by the New York Police Department, with assistance from the Newark Police Department, could lead to consequences reminiscent of the internment of Japanese citizens in America," Nathari said at a rally at the Islamic Cultural Center.
Muslim business owners, who said they have seen a drop-off in business since the NYPD's 60-page report was made public, also called on the city to help them find ways to make up some of the losses.
James Queally and Christopher Baxter write for The Star-Ledger in Newark, N.J. Staff writer Jason Grant contributed to this report. Via RNS.