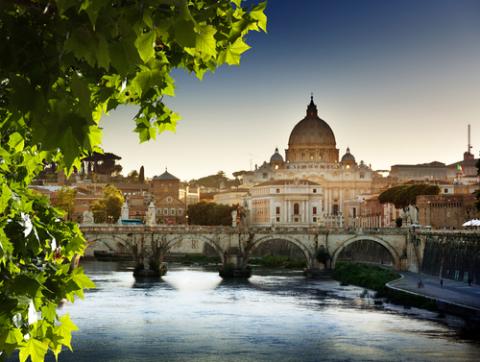 If you want a crash course on how papal politics really works, look no further than the saga of Scottish Cardinal Keith O'Brien.
On Friday, Britain's most senior Catholic cleric grabbed headlines by telling the BBC that priestly celibacy was "not of divine origin" and that he'd be "happy" if priests had the option to marry.
On Saturday, O'Brien was back in the news, this time after four men reportedly accused him of "inappropriate acts" dating back to the 1980s.
By Monday, O'Brien had resigned as archbishop of Saint Andrews and Edinburgh and announced he would skip the conclave.
From champion of married priests to disgraced churchman within 72 hours, O'Brien's trajectory is stunning but also emblematic of the frenetic and fever-pitched campaigning that occurs during the tiny window between a pope's death or resignation and the election of his successor.
The interregnum lasts a few weeks at most, when church leaders and various interest groups can openly voice their views to try to influence the future course of Roman Catholicism. It is also a time when the media act as the chief means for vetting any potential candidate whose track record, views, and character might otherwise remain a mystery to the public and even many of his fellow cardinals.
If the process is far less expensive and not quite as mind-numbing as the slog of a U.S. presidential campaign, the condensed papal version is not much gentler, or necessarily more effective. Instead it can be nasty, brutish and short.
"It is deplorable that as we draw closer to the time of the beginning of the conclave … that there be a widespread distribution of often unverified, unverifiable or completely false news stories that cause serious damage to persons and institutions," the told a German newspaper. "After that I never brought up the subject again."
In normal times, such a tale would never be told. Similarly, the cardinal in Hong Kong recently ripped the Vatican for failing to protect the church from Beijing on Benedict's watch, while the retired cardinal in London said the church should think about downplaying the church's unpopular teaching against birth control.
Numerous other cardinals, meanwhile, have openly pushed the need for a pope from Africa or Asia or Latin America to redress what they see as the Eurocentrism of the papacy, even as the Italians have been working through friendly media to position one of their own to recapture the Throne of St. Peter after more than three decades of Polish and German papacies.
But papal politics, maybe more than even presidential politics, is also about personalities as much as issues – about picking not just a world leader but a good and holy man to be the pastor of a billion souls. That leads to the kind of personal inquiries that can be especially unsettling, and can undermine the very decorum and display of charity that the process is supposed to embody.
Part of the problem is that there is no formal system for vetting candidates or investigating their background. The cardinals do not release their medical histories to the public or to each other, and many of the electors come from countries where they have no free press to investigate any skeletons in their closets. On the flip side, others come from countries where the press is free to publish any rumors or speculation, and with precious little time to rebut any allegations before the conclave begins.
It makes for a rough process, since candidates cannot campaign for the papacy – that is considered unseemly to the point of disqualifying – but an opposing camp can do everything possible to sow doubts about someone through the media.
Honduran Cardinal Oscar Rodriguez Maradiaga, who is considered a contender, last week faced renewed criticisms over comments in 2002 that he made about Jews and the media; Cardinal Roger Mahony, the retired archbishop of Los Angeles, has been the subject of an intense campaign to force him to skip the conclave because of newly released files showing how he protected abusive clergy.
Perhaps the height, or depth, of the whispering campaign was shown in reports over the weekend that Filipino Cardinal Luis Tagle has been known to tear up in public, and in fact did so when Benedict gave him a cardinal's red hat last November. The assumption is that there is no crying in the papacy, and Tagle told an Italian newspaper on Saturday that he had apologized to the pope for his tears.
"No, you don't need to apologize," the pope told Tagle. "We need heart in the church!"
Now there's a campaign slogan you may not hear in the coming weeks.
David Gibson is an award-winning religion journalist, author and filmmaker. He is a national reporter for RNS and has written two books on Catholic topics, the latest a biography of Pope Benedict XVI. Via RNS.
Photo: View of St. Peter's Basilica, Iakov Kalinin/ Shutterstock.com