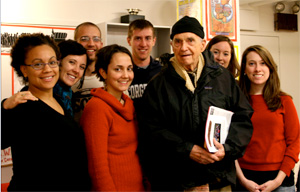 As a Sojourners intern last year, I, along with my community-mates, had the opportunity to request speakers to invite to address us during weekly seminars. Peace activist and poet Fr. Daniel Berrigan was on the top of my list. Corresponding only by written letters, we received an invitation to come visit him near his home in New York City, and he agreed that I could interview him for Sojourners magazine.
I had been an admirer of Fr. Berrigan for many years. As a high school student, I learned about Catholic social teaching in my youth group and through that experience decided I wanted to take my faith seriously, claim "Catholic" as part of my identity, and begin to study those who lived out these teachings the best, including modern-day prophets like the Berrigans.
So early on a Saturday morning, we met Fr. Berrigan in the basement of Union Theological Seminary. With the coffee brewing, he asked us to open our Bibles to Isaiah, chapter two, to contemplate our own journeys "to the mountain of the Lord's house" and our community's quest for understanding and knowledge of God's ways. We spent quite a bit of time in silence, reflection, and were invited to speak when the Spirit led us. I had more expected him to share with us the best techniques to beat swords into plowshares (literally), or how to make prison time into a retreat, than to lead us in a Bible study, but as we got to know him that morning, I understood why.
It was in recounting how his community discerned their next actions to witness against the wars that struck me the most: "The question in my mind has never been, 'What do we do next?' That's not the real question. The real questions are, 'Are we working at community? ... Are we serious about the world? How is that showing itself?'" By being with him and listening for the Spirit's wisdom through the scriptures, applying them to our own contexts, we received a window into Dan Berrigan's life and Source.
The hours we spent with Dan Berrigan were inspiring. Although it was clear that time has made his body frail, I endorse his assertion that "from the neck up, I'm in pretty good shape." He was sharp, funny, and most strikingly, he radiated peace. His words to us were spoken poetry that flowed organically from him. It was a true joy and privilege to spend a few hours with him.
As an emerging student of peacemaking, I spend a lot of time pondering what the future of the Christian peace movement should look like. Although I think we, as young people, are living in a different context than our forefathers and mothers of the 20th Century, I am eager to soak up wisdom from the great "cloud of witnesses" from our past, including Fr. Dan Berrigan, so that we can better understand how the Spirit is leading us to walk in the ways of peace and pass that peace to others.
Jennifer Svetlik, a former Sojourners intern, now works for the Roundtable Association of Catholic Diocesan Social Action Directors.