The racist, anti-Muslim ad in the New York Subway that used the language of civilized and savages has more than met its match.
A large group of Jews and Christians have countered that hateful message by tapping into the rich mines of neighborly love that are at the heart of Jewish, Christian, and Islamic traditions.
New ads by Rabbis for Human Rights , United Methodist Women, and Sojourners have tapped into the rich religious commandment to "love thy neighbor" to remind all of us to love our neighbors.
In the Hebrew Bible, God commands people to: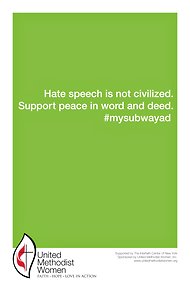 Love your neighbor as yourself. I am the Lord.

~ Leviticus 19:18
In the Christian tradition, Jesus is quoted as follows in the Gospel of Mark:
And Jesus answered him, The first of all the commandments is, Hear, O Israel; The Lord our God is one Lord:
And thou shalt love the Lord thy God with all thy heart, and with all thy soul, and with all thy mind, and with all thy strength: this is the first commandment.
And the second is like, namely this, Thou shalt love thy neighbour as thyself. There is none other commandment greater than these.

~ Gospel of Mark, 12:29-31.
Now, prominent Jewish and Christian groups have committed themselves to embodying these noble messages.
The initial advertisement was by United Methodist Women, whose advertisement read:
"Hate speech is not civilized. Support peace in word and deed."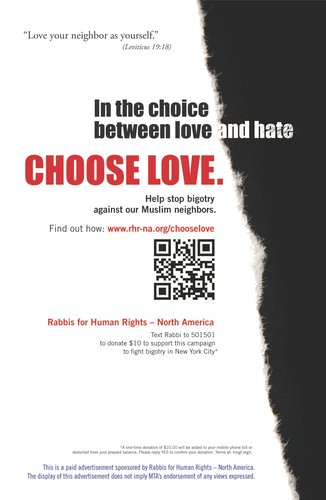 Rabbi Jill Jacobs, who is the executive director of Rabbis for Human Rights, specified that the phrasing of the ad was to counter the hateful racist anti-Muslim ad: "We wanted to make it clear that it is in response to the anti-Islam ad." The Rabbis for Human Rights' ad reads:
"In the choice between love and hate, choose love. Help stop bigotry against our Muslim neighbors."
Sojourners' campaigns manager, the Rev. Beau Underwood, told the New York Times:
"An essential tenet of Christianity is to love our neighbors…In the face of religious extremism, the best response is to treat others like we would want to be treated. Our ad campaign has a simple message that is at the heart of our faith."
We live in a world where there are hateful followers of every tradition, and their message of hate often commands front-page news.
Thank God there are also many followers of every tradition who seek to embody the noble and the beautiful aspects of our traditions, reminding us of the highest ethical imperative: that the love of God is connected to the love of our neighbors.
Well done, neighbors.
Well done.
Omid Safi is a Professor of Islamic Studies at University of North Carolina at Chapel Hill, specializing in contemporary Islamic thought and classical Islam. An award-winning teacher and speaker, his most recent book, Memories of Muhammad, looks at the biography and legacy of the Prophet Muhammad.
Got something to say about what you're reading? We value your feedback!