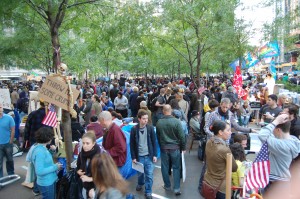 Editor's Note: HuffPost Religion is running a series of posts by Sojourners' Director of Mobilizing Lisa Sharon Harper and D.C. Innes, her co-author on the new book, Left, Right and Christ: Evangelical Faith in Politics, about how Christians should view social issues. Their first issue is Occupy Wall Street.
Left, Right and Christ: Believer Occupy Wall Street
By Lisa Sharon Harper
Last week, just hours before the New York City launch of our book, Left, Right and Christ: Evangelical Faith in Politics, I took a trip down to Zuccotti Park -- the site of the Occupy Wall Street encampment.
Usually wide-open, clean, and full of weary shoppers and business people on lunch breaks, Zuccotti Park was now jam-packed with protesters, sleeping bags, tents, food, protest placards, celebrities, and press.
My favorite placards were "I will not let food stamps numb my hunger for righteousness and justice," and "Democracy is too big to fail."
What are the occupiers talking about? Is our democracy in danger of failure? What isn't right about the way things are?
The foundation of Innes's political worldview is summed up in two words: "Limited Government." According to Innes, the role of government is solely to "punish those who do evil" and "praise those who do good." (Left, Right and Christ, p. 60) This says nothing of things that are neither good, nor evil -- like cancer. Does the government punish it or praise it? Does the government do nothing to help find a cure or create regulations on pollutants that cause it?
The Bible clearly establishes government to ensure the basic protection and flourishing of the image of God in all of its citizens and residents. All humanity is created in the image of God and has the same basic needs: life, food, shelter, work, and the ability to migrate (Genesis 1:26-28). These basic needs lay the foundation for modern day human rights.
Scripture offers a glimpse into God's thinking about the proper roles and boundaries of government and business in the establishment of Israel and the Ten Commandments (the Bill of Rights for a nascent nation of Israel) as well as the institutions of Sabbatical Year and the Year of Jubilee.
The Sabbath day policy required all workers, the land, all livestock, and even immigrants working in town to rest. The Sabbath Year policy mandated that every seven years Israelites were required to forgive debt and give workers, land, and livestock a year of rest. The Year of Jubilee mandated that every 50 years land lost to pay debts was mandated to be restored to the original deed holders. These regulations prevented the accumulation of gross wealth and the entrenchment of gross poverty in God's economy and protected workers, land, and animals from exploitation and oppression.
I talked with several Occupy Wall Street protesters: A web designer, a documentarian, and Noreeda, a homeless 28 year-old woman whose creased face belied manifold brushes with straight up evil. Noreeda was born and bred in the Bronx. She joined the occupation because there she found community. Plus, she admitted to me, she still has dreams of being a doctor ... one day.
On this particular day homeless Noreeda sat in the shadow of Wall Street. Protesters buzzed around her and she motioned to them with hope. She said, "I still believe ... one day ... it will all be made right."
Left, Right and Christ: Dreamers on Wall Street
By David Innes
The Occupy Wall Street movement has really brought out the...well, it's not fair to say the crazies, but certainly the dreamers. If Bob Dylan's "Blowin' in the Wind" was the anthem for the 60s protests, the anthem for Occupy Wall Street has to be Harry McClintock's "Big Rock Candy Mountain."
In the Big Rock Candy Mountains,
There's a land that's fair and bright,
Where the handouts grow on bushes
And you sleep out every night.
But even that is too specific. From the start, OWS has been a movement without a message. The location of the original protest indicates the importance of one particular animus: Wall Street prosperity at a time of high unemployment everywhere else. But as vague as this message is, it has been further muddled by calls for closing Gitmo, pulling the troops home from everywhere, etc.
This has left the movement open to co-opting by related causes that see energy going to waste. At some point the unions showed up in hope of giving it a labor focus. The Democrats have been thinking about how they might use the movement to boost their 2012 prospects the way the tea party carried the Republicans into blue skies in 2010.
The leftist evangelical group, Sojourners, has also been working at bringing these directionless but passionate young idealists into their fold. Jim Wallis, Sojourners CEO and grand-daddy of the evangelical left, published "An Open Letter to the Occupiers from a Vietnam Troublemaker." He encourages them to "[k]eep asking what a just economy should look like and whom it should be for."
Supposedly, it would look like what my co-author, Lisa Sharon Harper, calls "God's economy" in our book on the competing evangelical views of politics, Left, Right and Christ. On the basis of a controversial reading of Leviticus 25, she advocates widespread redistribution of wealth, a limitation on wealth accumulation, "Sabbatical-year rest for workers and the land," and perhaps even nationwide debt forgiveness every 50 years (Left, Right and Christ, p. 79). She also seems to suggest the nationalization of all agricultural land and natural resources (pp. 79, 85). She certainly advocates public control of the economy (p. 81). That's a lot of control.
Lisa does what she does and believes what she believes because, as a good Christian, she loves people. This is obvious. But we disagree on how God calls people to love one another. What I see in the evangelical political left is a dangerous, and I believe unbiblical, combination of utopian expectations for government combined with an unjustifiably optimistic willingness to empower government for this breathtaking work. They want the reign of God on earth; they want shalom fully realized now through political and economic reform. But if they came into the power they would need for this, they would quickly find their own movement co-opted by opportunists and their beautiful new day turned into a nightmare.

Lisa Sharon Harper is the Director of Mobilizing at Sojourners. She is also co-author of Left, Right and Christ: Evangelical Faith in Politics and author of Evangelical Does Not Equal Republican
Got something to say about what you're reading? We value your feedback!