I guess that people are on a journey when it comes to faith. Some admit to being on a journey, while there are those who state they have arrived. In my journey of faith or to faith, the notion of arriving at a solid base is more a myth than a reality. Guiding principles remain constant, but even these platforms are not static, for they develop as one journeys on.
Slumdog Millionaire presents the journey of a central character, Jamal, who has his beginnings in the slums of Mumbai. One scene caught my attention, in which Hindus attacked Muslims, resulting in the death of Jamal's mother. I mention this scene not to propel a villain and victim scenario, but to point out a religious rivalry resulting in human rights abuses. Jamal is interrogated because he is suspected of cheating on the show Who Wants to Be a Millionaire? During the interrogation, he reflects on his mother's death, and explains that if it were not for Rama and Allah, he would still have a mother.
We live in a world of battles fought in the cause of faith. The role of religion is clearly noted in the Crusades, slavery, colonialism, Nazism, Apartheid, and the Spanish conquests. Let me not fail to mention the ongoing strife between Israel and Palestine, or the militants of Sudan carrying out acts of genocide. Our world is plagued by numerous global religious-ethnic factions. The ministry of reconciliation must encourage people to see religious warring as a major contributor to violence and human rights violations.
On the Sunday morning of July 8th, 2007, I was ordained at my local church in Johannesburg, South Africa. Pastor Russel Abrahams, my local pastor since age 15, officiated the ordination service. My ordination confirmed the prayers of my grandmother who had fervently committed me to God. It also affirmed my parents' and community's support for me to bring the good news of Jesus Christ and God's love to the world.
After the ordination prayer of commitment and commissioning, I delivered my ordination response, followed by a keynote address delivered by my friend and mentor Ismail Vadi. Ismail is a parliamentarian and comrade within the African National Congress. More especially, Ismail is a committed Muslim. I am grateful to God for an ordination service that brought one of Muslim faith to speak on behalf of one of Christian faith. Family members and friends are sometimes critical of my inter-religious work. On this morning, however, one amongst many expressed that it was quite an experience to witness the presence of God through words from a religious other.
Consider the words of Chung Hyun Kyung, who reflects upon Asian women's theology:
My third hope for the future of Asian women's theology is that it go beyond accepting religious pluralism through interreligious dialogue toward religious solidarity and also toward revolutionary praxis in the people's struggle for liberation. (Struggle to Be the Sun Again: Introducing Asian Women's Theology)
Kyung recognizes that Asian women have to go beyond plurality toward solidarity if they are to join in the struggle for the liberation of all Asian women. Kyung accuses plurality of being lazy and irresponsible when it cannot mobilize women from diverse backgrounds toward common projects that will defy historical systems of injustice.
Drawing from the inspiring theology advocated by C.H. Kyung, I am convinced that the work and ministry of reconciliation, and the notion of a contextual reconciliation theology, calls people to consider moving from plurality to solidarity. In this movement, the I and the other enter into a sacred space of commonality. In the sacred space we understand that we are different, but our difference cannot divide us in pursuing the liberating message of the good news.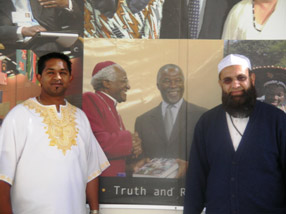 Seth Naicker with Ismail Vadi (currently a Member of Parliament, National Assembly) for the African National Congress (ANC) .
Seth Naicker is an activist, advocate, speaker, writer, artist, trainer, and consultant for inclusivity, diversity, justice, and reconciliation. Born and raised South African, he is working and studying at Bethel University as program and projects director in the Office of Reconciliation Studies. seth-naicker@bethel.edu smnaick@hotmail.com http://revsethnaicker.blogspot.com/