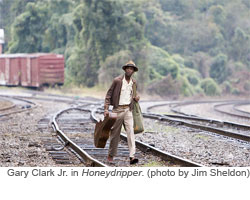 Recently, I had the opportunity to interview John Sayles about his movie Honeydripper, a multilayered and complex account of the birth of rock and roll in the Deep South. Following is an excerpt from our conversation. (The full interview with John Sayles will be published in a forthcoming issue of The Wittenburg Door.)
How would you describe the politics of your films?
My films are politically conscious as opposed to being politically unconscious. Part of who we are is what we live, what we see, and how we define ourselves. And politics is how we define ourselves. As a screenwriter of hire, very often my job is to get rid of all that stuff and just concentrate on the genre because it's thought to be distracting. But when I make a movie and want to talk a bit more honestly about people, you can't leave it out. For example, you can't really talk about the U.S. in the Deep South in 1951 without talking about segregation.
What was the significance of having a revival going on the same night that rock and roll was debuting at the Honeydripper Lounge?
That was a dichotomy that was very common in those little towns, both with white and black people, which was that you had to make a choice between being a sinner and being saved. It was often presented by the preachers as a very black and white choice, whereas there were a lot of people who somehow managed to do a little bit of both. For example, Sam Cooke started as a gospel singer and he caught a lot of flack when he started singing secular music.
What outreach, if any, are you doing to the black historical churches?
We're doing quite a bit actually. I know in Atlanta we're doing a lot with Hands on Atlanta around the Martin Luther King Jr. ceremonies. Danny Glover has a cousin who is the minister of a big church in Atlanta and he's going to work with them to do something. One of the things that we're doing with Honeydripper is we're trying to make its opening in each city an event.
How can the medium of film be a vehicle for social change?
Take race relations for instance. If you look at the history of American film, movies were probably part of the problem for the first 55 years of their existence. Even the comedies had hardly any African Americans in them. Then maybe in the late '50s, there started to be a few movies where African Americans seemed a bit more human. So, I think gradually television and movies are a little bit more part of the solution than part of the problem. It's all a conversation and there are a lot of voices in the conversation. Maybe one movie will be helpful or useful to people knowing a little bit more about each other.
Any suggestions for aspiring filmmakers, who want to make a social change but the dynamics of making movies has changed so much since you got started?
Documentaries are great. You don't need a theatrical release now. Just do your stuff and can get it out on the web.
(Author's note: A book I found that really captured the ethos of the South pre-1964 was Gurdon Brewster's No Turning Back: My Summer with Daddy King, an account of his experiences as an intern with Dexter Avenue Baptist Church in 1961 where he lived with Daddy King. Also, in his book, Boom! Voices of the Sixties, Tom Brokaw offers some intriguing reflections about his encounters with civil rights leaders, including Representatives John Lewis and Julian Bond, Reverend Andrew Young, Tom Turnipseed, and Reverend Thomas Gilmore.)

Becky Garrison's books include The New Atheist Crusaders and their Unholy Grail: Their Misguided Quest to Destroy Your Faith, and Red and Blue God, Black and Blue Church.
Got something to say about what you're reading? We value your feedback!