Around 500 voting rights activists and faith leaders sat outside the Hart Senate Office Building singing hymns, protesting poverty, and calling for federal protection of voting rights on Monday. The actions were a part of the Poor People's Campaign's National Moral Monday Action, and organizers said U.S. Capitol Police arrested around 200 people over the course of the protest.
"We are here today because we are compelled to be here. There comes a time when silence is betrayal, when the very foundations of democracy and justice are under attack," Rev. Liz Theoharis, co-chair of the Poor People's Campaign, said in a speech.
Police gave at least one warning to clear the street before arrests began, according to Melissa Garriga, a communications associate for the Poor People's Campaign, one of over a dozen partner organizations that came together for the rally. Garriga said she could not recall the number of times that police warned protesters on Monday but added that police at previous rallies usually gave three such warnings before beginning to arrest demonstrators.
Organizers said protesters were arrested on charges of "crowding, obstructing, or incommoding," a misdemeanor charge under the District of Columbia Code. Repeated calls to the Capitol Police Public Information Office to confirm that information went to voicemail.
According to social media posts, those arrested included Poor People's Campaign co-chairs Theoharis and Rev. William J. Barber II, as well as Rev. Jesse Jackson, who marched in Washington more than five decades ago to call on Congress to pass the 1965 Voting Rights Act.
"I'm willing to put my body on the line because it means that much to me in terms of really fighting for justice. It's not just lip service," said Rev. Angela B. Martin, Maryland state tri-chair of the Poor People's Campaign and one of many protesters whom Capitol Police detained. "I got up this morning and had that on my mind." She proudly showed her yellow arrest ticket to fellow demonstrators.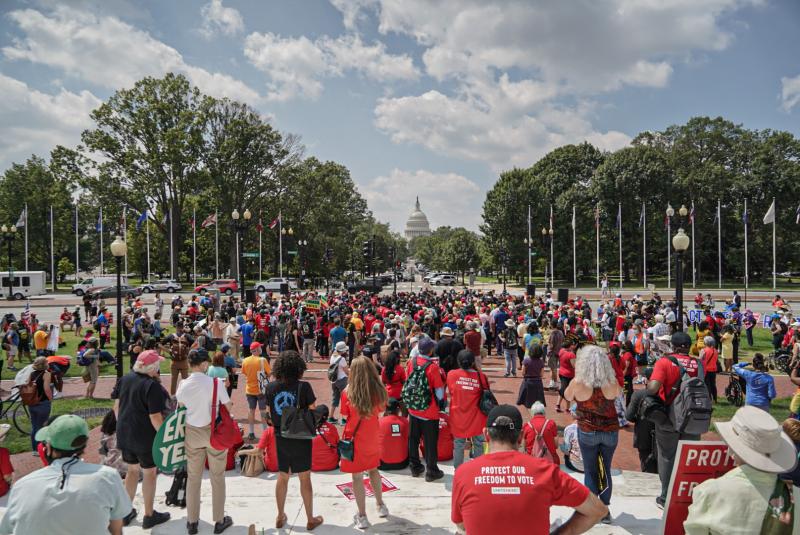 Protesters marched from Union Station to Capitol Hill, spilling into the street and intentionally blocking traffic as part of their nonviolent direct-action strategy, which prompted Capitol Police to begin arresting people. The demonstrators were calling on Congress to abolish the filibuster, pass the For the People Act for voting reform, restore the 1965 Voting Rights Act and raise the federal minimum wage to $15 per hour. Demonstrators from over 25 states came to Washington for the event, according to Garriga.
The Poor People's Campaign, an anti-poverty and justice movement, takes its name from the 1968 Poor People's Campaign organized by Martin Luther King Jr. and the Southern Christian Leadership Conference.
"This is a preacher-worker rally," Barber said before the march began. "This is a moral, constitutional moment."
Other speakers included Jackson, Indigenous rights activist and former chairman of the Arizona San Carlos Apache Tribe Wendsler Nosie, and Luci Baines Johnson, daughter of former President Lyndon Baines Johnson, who signed the 1965 Voting Rights Act into law on Aug. 6 of that year.
"I'm here because my faith calls me to it," said Rev. Ari Douglas, who traveled from his Wisconsin home to march in the nation's capital. "I'm not just fighting from a secular perspective, but also from a deeply moral and sacred aspect."
Rabbi Alana Suskin of Maryland echoed Douglas, saying that "as a rabbi and as a person of faith, my faith commands me to do justice."
Hundreds of workers and activists from across the country joined them and other faith leaders on the sunny Washington morning.
Washington resident Trayci Campbell said she was protesting the Senate filibuster — a procedural rule that effectively means it takes 60 senators' approval to pass legislation.
"I just want to see the filibuster ended, and I want equal voting rights for everybody," she said. A housing rights activist, Campbell also expressed her dismay at Congress' failure last week to extend the pandemic eviction moratorium. "I don't want people to experience all the negative emotions that go along with eviction … I have a passion in my heart to aid and assist people who are suffering."
Tembi Hove, a member of the hospitality workers' union UNITE HERE, also said the filibuster should be ended, calling it another example of taking away voting power from the people.
"We need to stop the filibuster … That's why I'm here," said Hove, who worked as a banquet server in Atlanta before being laid off in the pandemic. She was one of many members of UNITE HERE who attended the event.
Another member, Anthony Romero, of Washington said his children were his motivation for demonstrating.
"My parents came from El Salvador. They came here for a better life," he said. "And two of my kids are close to voting age, so I like them to see this involvement."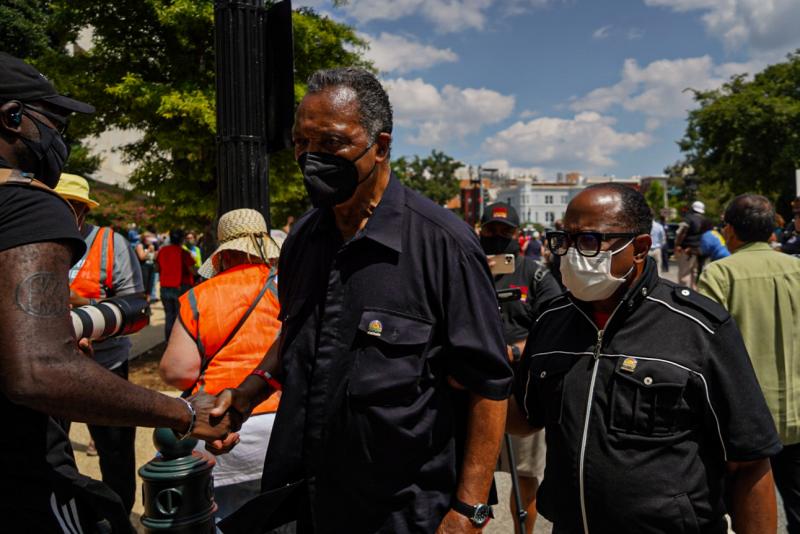 Got something to say about what you're reading? We value your feedback!