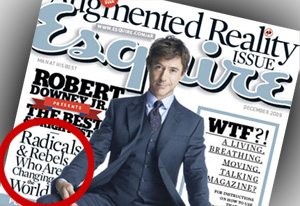 As some of you know (though I know not many of you keep up with the latest men's magazines) -- Esquire magazine's end of the year "Best and Brightest" edition named me one of the "Radicals and Rebels Who Are Changing the World"... but I wanted you to know the story behind the hype.
Several months back, one of the lead editors of Esquire called me and we had an incredible heart-to-heart conversation. He said he wanted folks to see the sort of Christianity we espouse, and went on to say, on a very personal note, that if he had seen this sort of movement, he may not have left Christianity behind. Then he pitched me an idea -- the idea was for me to write an apostolic letter to non-Christians. It was an honor to be given the platform, not for an expose of "The Simple Way," but for a simple opportunity to share God's love. I took the invitation very seriously. I hope you will join me in praying that it will have much redemptive fruit for God's kingdom.
You can find the piece for free online here, or in the current issue that hit the shelves this past week.

Shane Claiborne is a Red Letter Christian and a founding partner of The Simple Way community, a radical faith community that lives among and serves the homeless in the Kensington neighborhood of Philadelphia. He is the co-author, with Chris Haw, of Jesus for President.
Got something to say about what you're reading? We value your feedback!